Wildfires in Australia leave behind trail of destruction, spark climate change conerns
---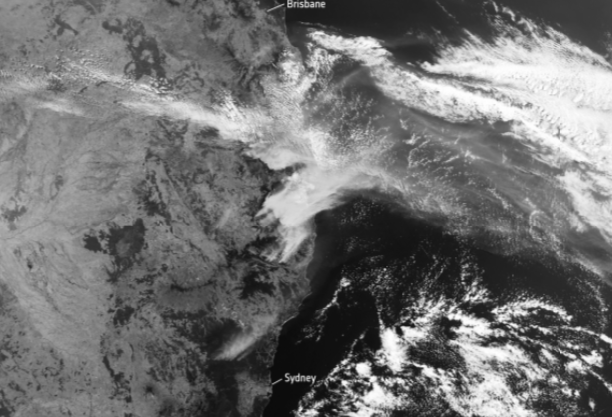 Iva Juka, Copy Editor
Over 16 million acres have burned throughout the last three months in New South Wales and Victoria, Australia. The vicious fires initially began with the Gospers Mountain fire, which was stated to be the largest wildfire Australia has ever endured.
The blaze has scorched throughout at least two million acres. This has not only affected the residents, but it has devastated the wildlife in the affected areas. Professor Chris Dickman, an expert on Australian biodiversity at the University of Sydney released a statement explaining that almost half a billion (480 million) animals have been killed by the bush fires in Australia. If the animals were not directly killed by the fires, they would die from starvation due to their habitat being destroyed entirely. The Gospers Mountain fire is largely contained, but other fires are still burning within the southeastern states of New South Wales and Victoria.
"What we're seeing in Australia, in a completely different environment, are fires that are approaching or even exceeding the magnitude of things that we only saw in the most remote forested regions in the world," said Ross Bradstock, the director of the Center for Environmental Risk Management of Bushfires at the University of Wollongong in New South Wales.
The New York Times has stated that at least 29 people have been killed, and more than 2,500 homes have been destroyed.
Australia is no stranger to fire season due to its hot and dry summer but climate change is a great factor to longer and more frequent periods of heat. Most fires have been caused by lightning strikes or arson, but residents of Australia have been arguing that the issue at large is related to climate change.
Reporter Michael Barbaro from The New York Times interviewed resident Livia Albeck-Ripka, who was able to escape the fires. "You probably saw images of the harbor totally covered in smoke," said Albeck-Ripka. "In Canberra, the air pollution was recorded as the worst in the world. Word than Delhi, even."
The fires have caused a great deal of smoke haze, which cover the cities. With smoke haze comes health concerns. Currently, cities such as Sydney, Melbourne and Canberra have smoke blanketing over- giving citizens the worst air in the world.
Prime Minister Scott Morrison of Australia has come out with a statement that he will not consider changes to policies on renewable energy, fossil fuels and coals. He declines to put jobs at risk for the lowering of carbon emissions. Instead, he wants to focus on how to help the country adopt to better policies for disaster management and relief.
5 comments