Group of Assumption College students join the annual March for Life protest in D.C.
---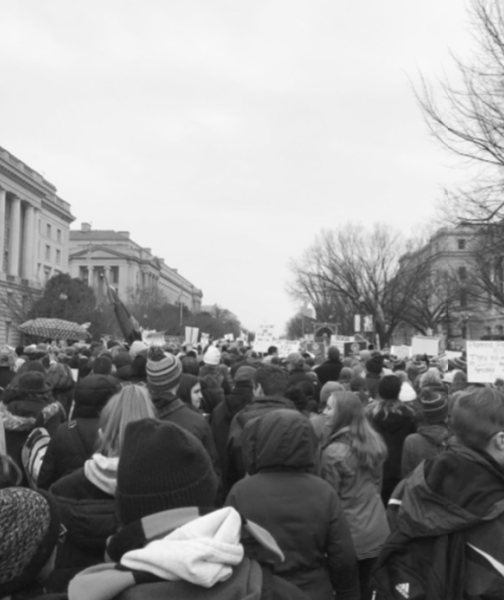 Tyler Cullen, Copy Editor
Friday, January 24th was the annual March for Life in Washington D.C.  The March for Life is a peaceful protest against the practice and legality of abortion.  Every year since the historic Supreme Court decision of Roe v. Wade in 1973 thousands of pro-lifers have traveled to D.C to attend the March for Life.
Assumption's Advocates for Life club took their annual trip down to D.C. to witness and participate in the March.  This year's March for Life was especially noteworthy because it was the first time a U.S. President attended.
President Trump gave an electrifying speech stating that he was the most pro-life President to ever serve in office.  Not only did the March make history because President Trump attended, but it also had the most participants out of any March for Life thus far.
When President Trump spoke about the pro-life movement it was very different from his typical speeches.  For instance, one of the most surprising aspects of his speech was that he seemed truly devoted to the cause, and he did not discuss his 2020 campaign efforts.
Although it was inspiring to be able to hear the President of the United States speak in person, security made it difficult to maneuver the roaring crowd.  This was a major difference for this year's March because of how tense and crowded it was.
Shortly after the President spoke several other politicians and religious figures also took the stage.  There were Republican and Democratic politicians who spoke at the event, which shows that some issues are more across the aisle than we are made to believe.  The March for Life itself was fairly short distance-wise, however with the massive amount of people that were participating made what seemed like a fifteen-minute walk almost two hours.
All the people who marched were in high spirits as the day went on and everyone was unified by the same cause.  Surprisingly the majority of people who went to the march were younger and in their teens.  It was very empowering to not only walk with other students from Assumption College, but it was even better with the thousands of others who shared the same journey.
Regardless of the political party you are affiliated with it is very encouraging to see how involved young people have become in the past years when it comes to politics.  Granted, some protests are more respectful than others, I would say the March for Life is very peaceful and seeks only to highlight the value of life at its earliest stages.
Sometimes it is difficult to stand up for what you believe in, or to be so outward with your opinions, but overall it is the right thing to do.  The March for Life was a very memorable trip, and even though this is my second time it is impressive to see how much the movement has grown.
Today the amount of abortions in the U.S is at an all time low, and many politicians are forcing a discussion on the issue.  It will be interesting to see the progress that will be made in the coming years, but abortion will always be a heavily debated issue that is complex in many ways.
3 comments