MLB offseason turns wild as Houston Astros sign stealing scandal is exposed
---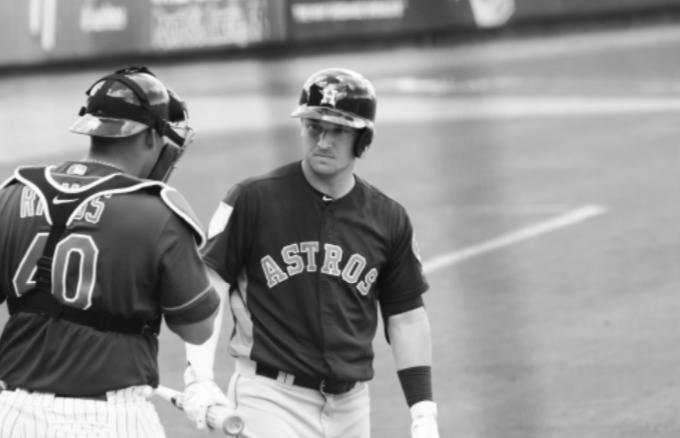 Tom Angell, Staff Writer
This past week the baseball world collectively exploded. It all started when MLB commissioner Rob Manfred levied a yearlong ban on Astros GM Jeff Luhnow and Manager AJ Hinch for the sign stealing scandal that has enveloped baseball these past few weeks. Along with this ban, the Astros were also given a 5 million dollar fine, and loss of draft picks. Eventually both Hinch and Luhnow were both fired by Astros owner Jim Crane. The craziness didn't stop there, as before the week was over Red Sox manager Alex Cora who was the bench coach of the 2017 Astros World Series team and Mets manager Carlos Beltran who was a player on that team, were also out of a job for their involvement in the scandal. Alex Cora's departure especially hits close to come for many of us, and is arguably one of the most dramatic falls from grace in recent baseball memory.
Where does this all leave us? What we know from the commissioner's report is that the Astros gained a legitimate advantage using internal cameras to relay signs. Then players would use this internal feed to then bang on a trash can in the dugout to relay the signs in real time to the hitter. This scandal which has taken the jobs of three high profile managers and a well-respected GM has revealed a lot about the call out culture of Major League Baseball. The scandal itself began when former Astros pitcher Mike Fiers came out and revealed the Astros trash can cheating scheme. Fiers call out was just the beginning as eventually this whole scandal came to a head on January 16th when all of baseball twitter lost its mind. Allegations as wild as Mike Trout doing steroids were thrown around without an ounce of credibility, and many people examined things like wrinkles on jersey's as if they were the Zapruder film from the JFK assassination.
The allegations levied on the wild west of Twitter dot com started with credible reports of trash cans banging, to wild claims of electronic buzzers vibrating inside a hitter's jersey to indicate a certain pitch. The video of Altuve hitting a home run to win the 2019 ALCS and refusing to let his jersey be ripped off is just one example of the craziness on Twitter that day. Suddenly everyone was a detective, and the Astros were the main culprit. Burner accounts were popping up like weeds in a garden, and many believed players who wanted to defend their legacy utilized clandestine means to do so. Whether you believe the unconfirmed reports of electric buzzers or not, it has been wild and entertaining to watch regardless. In my 21 years as a baseball fan, I can not recall any significant day in any offseason until this past week. It was entertaining to say the least, regardless of the fact it was mainly negative.
Leading the charge and entertaining the hungry baseball masses was none other than noted crazy person and fan favorite Reds pitcher Trevor Bauer. The same Trevor Bauer I may add who angrily threw a baseball over the center field fence from the pitcher's mound after being taken out of a game in Kansas City last season. Bauer is known as an outspoken player who is ultimately good for baseball with his antics fan interaction. Predictably, he let loose on social media this past week, adding fuel to the fire that had been growing for weeks. He is just one of many players, both current and former, who have let their feelings be heard. Some players even went so far as to say that they'd rather have hitters be on steroids than know what pitch is coming in an at bat.
Regardless of the fact both current and former players have spoken out in droves, MLB has a big problem on their hands with the Astros cheating scandal. The sports world is still looking at them, and even though punishments have been levied, this isn't the end of this scandal. Most people believe that these cheating allegations run farther than just the Astros, and that is something the MLB will certainly have to look into. Another aspect to highlight is the fact no players were charged with any wrongdoing. This decision doesn't sit well with many, and if the electronic buzzers allegation turns out to be true, MLB will have a hard time letting the players involved such as Jose Altuve and Alex Bregman get off unscathed.
All is not lost however, the old adage rings true in this case, that no press is bad press. Although, this may damage the sport's long-term reputation, it ultimately got people talking about baseball in a time of year where football and basketball dominate. Baseball has become the focal point of the sports world, and in my life, I have never seen off season baseball be a topic of discussion over an impending super bowl matchup. The MLB realizes this, but doesn't quite agree with my take that a good old fashion scandal isn't always the worst thing for your brand. If you want to point the finger at baseball for this cheating scandal and come at the sport as a whole, you could turn that finger right back around to football and basketball who in their own right have their fair share of moral failings.
Lastly, only time and a few remaining investigations will tell if this turns out to be a major dark period in the history of major league baseball, or rather just a footnote of a dirty team. MLB will move past this and be stronger going forward, as all we can do now is sit back and watch the kids play.
3 comments