A few thoughts on the Mookie Betts trade
---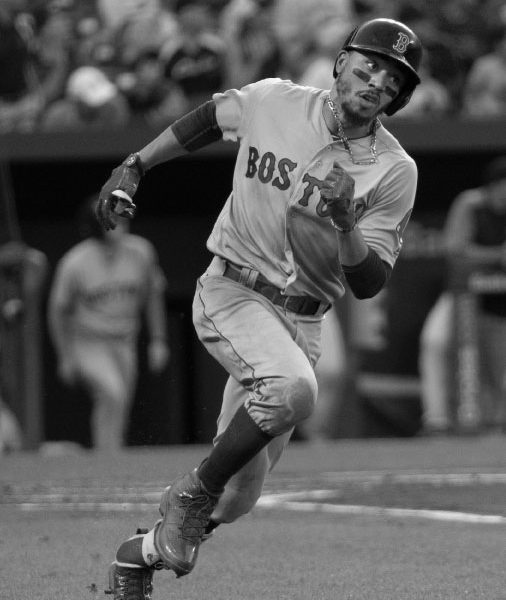 Tom Angell, Staff Writer
The Boston Red Sox pulled off one of the most dramatic, league altering, turn of events traded Mookie Betts and David Price to the Dodgers, not once, but twice. Originally this trade was for outfielder Alex Verdugo and Twins pitching prospect Brusdar Graterol, but medical issues changed that. However, the trade ended up taking over a week to complete and was shifted, to include the Dodgers number five prospect, Jeter Downs, and mid-level catching prospect Connor Wong. There were a couple reactions to this trade from Red Sox Nation. However, most, if not all of these reactions were extremely negative to say the least. This negativity was only increased with how long this trade took to go through. Many people, myself included, were extremely displeased with the place that this trade put the players in. Betts and Price were in limbo for over a week, not sure where they were to call home. It's tough to decide whether as a Sox fan this trade is just upsetting, or absolutely vile and depressing. Regardless of whether this trade is good long-term, it is still gut wrenching nonetheless and is tough to defend, but this trade is not without its legitimate reasons.
First off, there is never a good excuse for trading away the second-best player in the league if your organization has the means to keep him. Since 2016 the only player in all of baseball with a higher WAR than Betts is Mike Trout, who is the face of the MLB. To drive a rusty knife even deeper, and twist it in the process, Marcus Lynn Betts is a homegrown talent, with an MVP award and a World Series Championship under his belt. He is someone who came up through the farm system. I distinctly remember hearing about Mookie when I was in 8th grade as the next big prospect from my older cousin, and was ecstatic when he made his debut in 2014. He was originally the heir apparent to Dustin Pedroia as he came up as a second baseman before he switched to right field. There is no getting passed the fact this hurts, a lot. It's especially hard to justify to Red Sox fans who are used to getting the flashy free
agent every year that it was time to cut costs, while simultaneously raising ticket prices. The luxury tax threshold being cited as a major reason.
The overshadowed player in all of this is David Price. This is ironic considering how much negative media attention was on him when he was in Boston. People tend to forget that in 2018 when Chris Sale went down, it was David Price who led the rotation into the playoffs, and it was the same David Price who won the clinching game of the 2018 World Series. How soon us New Englanders neglect past glory when we have much lesser, and more recent screw ups in our minds that only back up our preconceived notion of a person. David Price's 2019, confirmed, not good. David Price's relationship with the media, also confirmed not good. None of that matters when you win a championship though. However, the basic fact is that losing what could have been a reliable (if healthy) starter makes this trade much more agonizing.
Now the return for Betts and Price isn't negligible. Alex Verdugo has a high ceiling and hit .294 in 106 games last year. He is also only 23 and has a strong arm. To add, Jeter Downs has strong potential to be the second baseman of the future, which will be funny considering he is named after Yankees legend Derek Jeter, a Boston nemesis. Is this a fair return for the best player in baseball not named Mike Trout? No, not even close, but it is not chump change.
The next question is well why did this happen, and what does it mean? At the end of the day it was John Henry's money that won us 4 World Series in 16 years. Bottomline as tough as it is to defend John Henry's gets to do as he wishes with his wealth. Simple as that. By trading Mookie and Price in essence the Red Sox avoid paying over 100 million dollars in luxury tax fees. Secondly, even with the gargantuan amount of money the Fenway ownership group has, there was not enough to go around for players like Devers, Benny, and to have money to shore up the rotation. As a teacher I once worked with told me, you either get Benny and the Jets or the Mookie solo show. Granted this doesn't factor in Xander
Bogaerts, but it is an interesting line of thinking regardless. This line of thinking makes the assumption that the money the Red Sox save by trading Mookie and Price will go to other players. The flaw with that line of thinking is that unfortunately, ownership does not seem to be willing to spend that money right now. Lastly, one could also argue that Mookie Betts was going to leave in free agency anyways. He had not given any indication he wanted to stay in Boston and it was reported that he wants somewhere around 12 years 420 million which is Mike Trout money, and as we've established, he is not Mike Trout. This may be in fact the soundest, and compelling argument in favor of trading Betts and Price.
So, where does this all leave us? A hometown hero gone for good? An MVP face of the franchise and a World Series clinching pitcher headed west for a while? Maybe the Sox even re-sign Mookie next year and this is all just a one-year timeout? As doubtful as that is, crazier things have happened. Where this leaves us is simple, Andrew Beninitendi needs to take that next step and with a recent two-year extension that seems to be something the Red Sox hope for too. With Mookie gone, it rests on Benny to rise to the occasion and play up to the level he is capable of. His ceiling is that of a Fred Lynn but he is playing more like an Alex Gordon, hitting only .266 last season. Lastly let's ask ourselves this question, does anyone else remember the last time the Red Sox made a big trade with the LA Dodgers back in 2012? Do the names Adrian Gonzalez and Josh Beckett ring a bell? Yes, if I remember right, that worked out well the next season. There is only one way to discover if history repeats itself, and we'll begin that journey in Toronto against the Blue Jays on March 26th.
2 comments