A fresh take on a classic: "Little Women" Review
---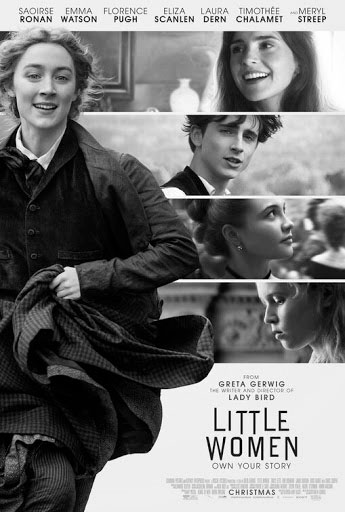 Jordan Gablaski, Staff Writer
I have to admit that I was skeptical about the new version of "Little Women." I am almost always skeptical of a remake, let alone a remake of the cinematic version of one of my absolute favorite books of all time. Luckily, the latest version of "Little Women" was fresh and interesting; the casting was inspired, and the relationships portrayed worthy of the ink and paper counterparts that people fell in love with more than a hundred years ago. It is directed by Greta Gerwig, and is starring Saoirse Ronan as Jo, Timothée Chalamet as Laurie, Eliza Scanlen as Beth, Florence Pugh as Amy and Emma Watson as Meg.
The main reason that Gerwig's version remains fresh is due to the clever choice in reorganizing the chronology of the plot. Instead of telling a simple, linear story of the four March sisters growing up in New England during the Civil War period, Gerwig decides to begin the story in the middle, using well-timed flashbacks to fill in the rest of the story. For the first 20 minutes or so, and perhaps more so for people who are unfamiliar with "Little Women," you may find yourself struggling to piece together just who these girls are and what the relationship dynamics between the characters are meant to be. But don't worry, it all comes together; and if you find yourself confused as to what is a flashback or not, keep your eyes peeled for the gold tones in the composition of the shots when events are occurring in the past.
Seeing as how the story begins in the aftermath of the climactic moment between Jo and Laurie, that allowed for more focus on the Amy/Laurie relationship and attempts to explain how that match occurred. Marriage was looked at as an economic decision more than romance, and Gerwig blatantly draws attention to that fact more than once with both Amy and Jo. I am not yet
sure how I feel about what the film does with Mr. Bhaer, Jo's eventual love-match, but I really loved the scene between Jo and her publisher, where she tries to negotiate to have her heroine
(who may or may not be herself) not marry anyone, which is of course the same issue that Alcott herself went through with Jo March.
Perhaps the best thing about this film in my opinion was how wonderfully these characters were cast. The chemistry between each of the characters is instantly apparent, and leaves no question as to how each of the characters operate within the framework of the narrative, especially when it comes to the sisterly relationships. Meryl Streep as Aunt March was the most believable bit of casting I have seen in a long time, and I was thoroughly impressed with Chalamet as Laurie.
Most importantly though, Ronan truly did justice to Jo. As a writer myself, Jo has always been one of my favorite literary characters. Watching Jo struggle with being an ambitious woman, one who has conventional emotions and also attempts to deny them, was so relatable. I loved the line between Jo and her mother, "I'm so sick of people saying love is all a woman is fit for. I'm so sick of it. But I'm so lonely." Watching her turn away from writing only to come back with an utter vengeance and feverish need to finish her latest project is so satisfying and inspiring.
So while I may have sat a bit befuddled at the beginning of the film, by the end I was pleased and even impressed with the story that Gerwig told, giving us the characters and the story we love while taking a new direction and giving a message seldom focused on in film: marriage/romance is not the end all be all for a woman, and yet the media insists upon continuing
to infuse story lines with a marriage plot, even when the characters avoid it like the plague all the way down the aisle.
This was by far my favorite film adaptation of "Little Women." It was funny, emotional, relatable. It was heartwarming, heartbreaking and poignantly true to the author's sentiment of marriage and femininity. It brought my favorite group of sisters to life so realistically that even with its flaws, I could have stayed in the theater and watched it all over again right after the credits rolled.
For more movie reviews by the author, be sure to check out https://movication9.wordpress.com
10 comments