CDIC hosts "Dress for Success" fashion show
---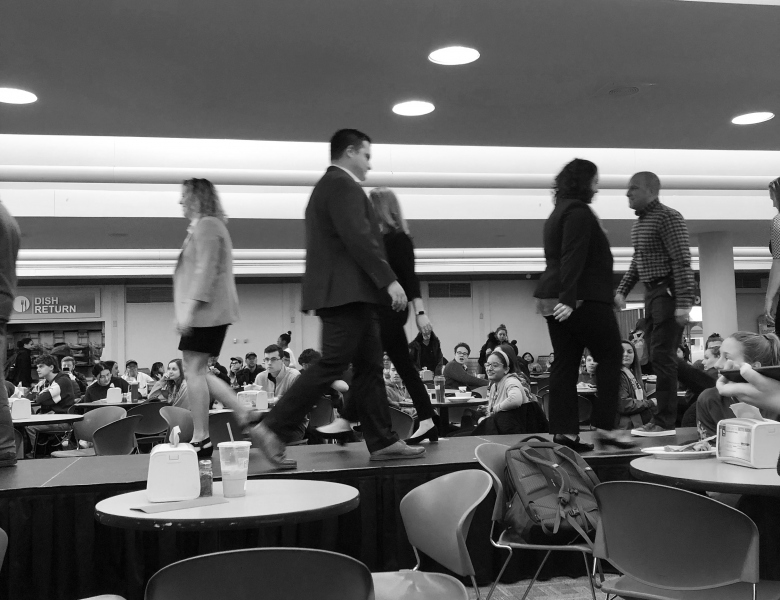 Maggie Buckley, Staff Writer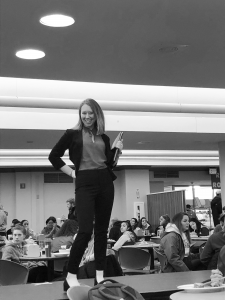 Both students and faculty took the stage at Taylor Dining Hall on Thursday, Jan. 30 to teach students how to "Dress for Success."
Taylor Dining Hall was flooded with Assumption College students during the common hour on Thursday morning. The air was filled with chatter as lunch-goers gathered around the runway that sat in the center of the room.
The volunteer models strutted down the runway in professional work attire. Men donned khakis, button downs and quarter zips for a more business casual look, while others were spotted wearing suits and ties. The women, on the other hand, wore everything from pant suits to khakis with a cardigan to dresses with blazers.
Students in the audience were given tips to remember when planning their professional outfits, such as coordinating the color of one's shoes with the color of their belt and choosing a dress or a skirt that is appropriate in both length and fit for the office.
Kelly Stairs, the assistant director of the Career Development and Internship Center, said that the event was "a great way for students to get a visual for what they should and shouldn't be wearing" to professional events, such as interviews, the first day on the job, and the rapidly approaching Career and Internship Fair.
There was also an interactive portion in which audience members were asked various questions, such as what not to wear to professional events. Answers including jeans, sweatpants, boots, and leggings. Those who answered questions scored a free water bottle and t-shirt courtesy of the CDIC. It was a fun and informative way for students to become acclimated to the wardrobe they will be wearing in the near future.
The "Dress for Success" fashion show was one event in a prep series for the CDIC's Career and Internship Fair. Other events included the Networking Workshop which took place
on Tuesday, Feb. 4 at 6 p.m. in Hagan Campus Hall and Reno: Employer Edition on Thursday, Feb. 6 at 10:30 a.m. in Charlie's.
The Career Fair took place on Monday, Feb. 10 from 4:30 p.m. to 6:30 p.m. in the Plourde Recreation Center and students who attended were certainly dressed to impress.
6 comments