Chiefs Claims First Super Bowl Win in 50 Years
---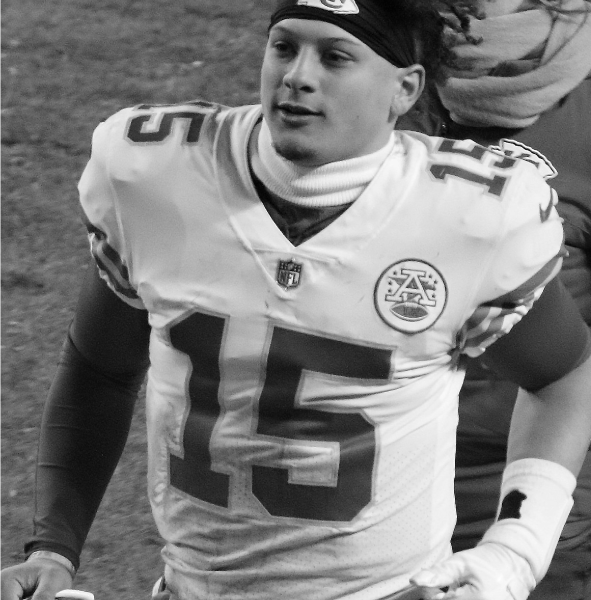 Kyle Sorgi, Staff Writer
Well, the NFL has officially crowned the champion of its 100th season. On Sunday, February 2nd, Super Bowl LIV MVP Patrick Mahomes outdueled Jimmy Garoppolo and the San Francisco 49ers in a riveting, come-from-behind victory by a score of 31-20. America was waiting for some exciting football and fun entertainment, and Super Bowl LIV gave the people all they wanted, and then some.
Demi Lovato set the stage for this pivotal showdown with her rendition of the national anthem—and she did not disappoint. Lovato, in a white belted dress, sung with confidence at midfield, showing her vocal range on a couple of high notes and, for any in-game bettors, clocked in at just under two minutes. It was her dazzling performance that sent us into the long-awaited clash between the Chiefs and the 49ers.
While there was a world championship to play for in Miami, there were some intriguing and historical storylines to watch before 49ers punter Mitch Wishnowsky delivered the opening kickoff.
For instance, this was the first Super Bowl featuring two teams with red as their primary color. It was the fourteenth all-time head-to-head meeting between the Chiefs and 49ers, with that series now tied at seven wins apiece. In terms of Super Bowl experience, this was the Chiefs' first appearance in 50 years, ending the second-longest Super Bowl drought in NFL
history (the only team with a longer skid is the New York Jets, with an active 51-year-stretch since their lone Super Bowl in 1969).
On the other hand, the 49ers were trying to tie the Pittsburgh Steelers and New England Patriots with a sixth franchise Super Bowl win, but fell just short. Nonetheless, they became the third team to reach the Super Bowl after winning four games or less the previous season, and convincingly reached their first winning season since 2013.
We also witnessed the first woman to coach in a Super Bowl on the San Francisco sideline: offensive assistant coach Katie Sowers. Right from the get-go, this game was checking a lot of boxes in terms of what fans were to expect.
When both teams took a tied score of 10-10 into the locker room at halftime, it was Shakira and Jennifer Lopez's time to shine. As the first Latinas to headline a Super Bowl halftime show, Shakira and Lopez made star-studded history at Hard Rock Stadium.
Shakira took her turn first, at times with singer Bad Bunny, delivering some of her classics, like "Hips Don't Lie," "Whenever, Wherever," and "Waka Waka," along with some of her Spanish hits. Some may draw parallels of her red attire to that of Gazelle, the character she voiced in the 2016 Disney animated film, Zootopia. Alas, she brought the fire to her on-stage dynamics with her voice and eye-popping choreography; and soon after, Jennifer Lopez kept that flame burning.
Right from her start, Lopez had the audience's attention, taking it to another level with her portion of the show. With classics like "On the Floor," "Dance Again," and other iconic hits, Lopez gave a memorable second act, even tying family into it with her daughter, Emme, joining in at one point.
Shakira and Lopez singing together for the last portion of the show tied together the entire performance well. Altogether, the high-powered duo came through with quite the halftime show to remember, living up to the hype and showing the Latina love for one another with a joyous hug to cap it off before the second half of the game.
Seizing early momentum, the 49ers started to take control of the game, taking a 20-10 lead into the fourth quarter. However, this was no irregularity for the Chiefs; in their two prior playoff games, they faced deficits of ten or more points at some point in each game. So, when San Francisco jumped out to this double-digit cushion, Mahomes and his Chiefs answered the call once again by scoring 21 unanswered points in the last 6:13 of the fourth quarter.
Once the Chiefs stepped on the gas pedal, there was no slowing down this suddenly-rejuvenated offense. They had not lost a game by more than seven points with Mahomes as their starter, and still have yet to with this victory. For Garoppolo and the 49ers, they had not trailed throughout the postseason until this resurgence by the Chiefs. They simply had no response, as Andy Reid brought the Vince Lombardi Trophy back to Kansas City for the first time in 50 years. As Reid's first Super Bowl win in his 21-year coaching career, he ended a previous-record mark of 221 wins without a championship, which was the most in NFL history.
Patrick Mahomes rightfully earned Super Bowl MVP honors, posting 315 total yards and three total touchdowns. With the win, at 24 years old, Mahomes is now the second-youngest quarterback to win a Super Bowl (Steelers quarterback Ben Roethlisberger won Super Bowl XL in 2006 at the age of 23).
All in all, from the Chiefs' stunning comeback, to Demi Lovato's phenomenal national anthem, to Shakira and Jennifer Lopez's epic halftime mashup, and everything in between, Super
Bowl LIV was a fulfilling way to spend a Sunday night. I definitely enjoyed watching the game, even though it was not the Patriots playing, and I hope you readers that watched it did so, too.
9 comments