Men's Lacrosse Spring Preview
---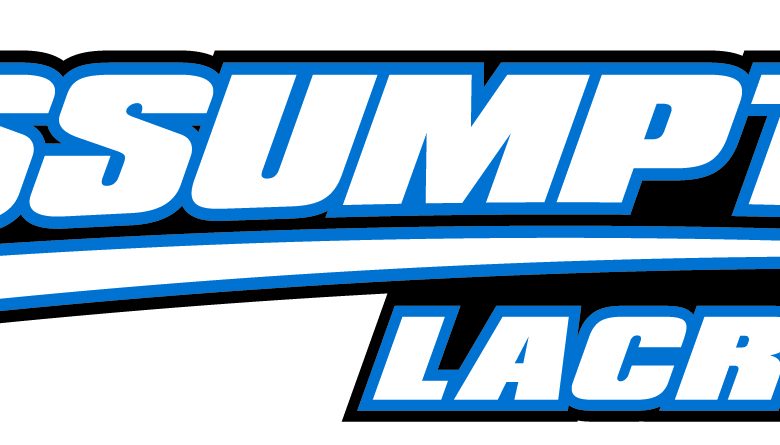 Ryan Morgera, Staff Writer
This winter has seemed to have come and gone, and it's beginning to look and feel a lot like lacrosse season. After one of their better seasons in recent history, the men's lacrosse team here at Assumption is ready to rock and roll this Spring. The Hounds were 8-7 overall last season, capturing their first ever program victory over a top-10 team. With the loss of 8 seniors and 40% of their goalscoring from 2018-19, the Greyhounds are definitely going to rely on their leaders to take over this season and carry them to success.
Senior captains Brett Jennings (Montgomery, N.Y. / Valley Central), Jason Hughes (Watertown, MA / Watertown), Owen Peterson (Westchester, N.Y. / Westlake High School), and Tim Tierney (Framingham, MA / Framingham) are all experienced and battle-tested weapons for the Greyhounds. Jennings has produced since day 1, totaling 28 goals his freshman season. He scored 23 goals as a sophomore, and 26 as a junior, to total 77 goals, 23 shy of 100. Hughes has tallied 21 goals in his 3 years, battling multiple foot injuries but 100% for this Spring. He'll be a huge asset for the Greyhounds offense because of how versatile he is in front of and around the net. Peterson has 31 total goals in his three seasons, 28 of those coming his junior campaign. Peterson was 3rd in goals for the Greyhounds last year, so look for him to pick up some of the offensive responsibilities this season. Tierney has been a lock down defender for the Greyhounds since his freshman season. Tierney has caused 40 turnovers and picked up 92 ground balls in his four years for the Hounds. He also has two assists as he is a threat bringing the ball over midfield as well.
Other seniors for the Greyhounds include Trevor Wilcox (Somers, Conn. / East Catholic), Will Shaw (Marshfield, MA / Marshfield), Colin Buck (Bow, N.H. / Bow), Joe DelRossi (North
Massapequa, N.Y. / Plainedge), Spencer Marocchini (Somers, Conn. / Wilbraham & Monson), Chris Clark (Colchester, Conn. / Bacon Academy), and Chris Schultz (Bayville, N.Y., Locust Valley). The experience of this class has been on full display since freshman year, when the Hounds took the then No. 1 team in the country, the Lemoyne Dolphins, to overtime. Brett Jennings scored a hattrick in his first collegiate contest and set the bar for what the class of 2020 was capable of.
This Spring break, the Hounds are headed to North Carolina for two games, one vs Lenoir-Rhyne, and another vs Catawba. Jason Hughes says both teams are "really high caliber teams, both ranked in the top-20 last season. We're looking to go down there and compete and see if we can come back here with two big W's."
This season, the Greyhounds scored on a new faceoff guy, Tyler Grant, who transferred into Assumption and will take over the responsibilities at the faceoff 'x' for the Hounds this spring. In net, Assumption is going to ride whoever gets hot. It's never a bad problem to have a goalie battle, and it will be interesting to see who pulls ahead and establishes themselves as the top guy this spring. Senior Chris Schultz, as well as junior Will Wiegand and sophomore Mike Pasquaretta are the favorites for the starting job.
Other than those changes, Assumption will be looking to its returners for most of its offensive production. Owen Peterson says the Hounds returners will be "fired up and ready to play. We've been waiting for this season and we'll be firing on all cylinders." In terms of goal scorers, second-year head coach Guy Bourdon has created a non-selfish offense which will set up success for all 6 guys on the field. Brett Jennings says, "our top two lines of midfielders are
very talented, and our offense is very well-balanced which creates a lot of opportunities for people to score."
As far as defense, Tim Tierney will once again lead the way for the Hounds. Tierney is a four-year starter for the Greyhounds, and with the help of Will Shaw, Joe DelRossi and Aidan Coughlin the Greyhounds are looking strong on the back end. For long-stick midfielders, the Greyhounds are once again going to rely on Aidan Tefft to take the workload of the opposing teams best midfielder. Tefft was named to the NE-10 All-Rookie Team just two seasons ago.
So far it seems Assumption head coach Guy Bourdon has created a program that will be capable of competing in the NE-10 for years to come. The offense allows for all 6 positions to consistently produce, and the defense is very well thought out so that there are rarely opportunities for opposing teams to find holes in it. Tim Tierney believes it's been beneficial having a coach for a full preseason and fall season because "we've been able to install everything before our first game and everybody kind of knows what's going on because we've been at it for 6 months now."
As far as favorite memories in their Greyhounds jersey's, their answers were all very similar. They all picked games that they felt helped turn this program in a new direction, not games they had personal achievements. For Peterson, he pointed back to their first ever game, a game the Greyhounds lost, a game he didn't get to play in, but a game he'll never forget. "We played #1 Lemoyne and took them to overtime. It was awesome to see the potential this freshman class had. We knew we were a strong class, but that game really showed what we may be capable of and I'm ready for this season to start so we can finish what we've started." Jennings recalls their upset over Tampa last season. He says "we went in and came out with our
programs first victory over a top 10 team. It really set the rest of our season up, which ended up being one of our best in history, so we're looking to build off those successes into this season as well. Will Shaw says the Tampa game is his #1 memory as well. Although he was unable to play due to a torn ACL that held him out in 2018-19, Shaw was perhaps the best "bench guy" the Northeast-10 has ever seen. He recalls the game as being "the most fun game he's ever been a part of. Watching all of my friends be successful and coming away with a huge win like that was amazing. I wish I could have been out there, but I was so fired up for all of my teammates because it really was an amazing win. Shout out Brett Jennings." Hughes recalls the Tampa game as a huge stepping-stone for the Assumption program. "We were getting passed over all preseason. We weren't on any polls. No one knew about us. And even in that game we were down, but we were never out, and we battled back and came away with a huge win over a top-10 team and that was really special for all of us. Hoping for more of those this season" said Hughes.
Look for the Greyhounds this Spring to continue their successes from last season. February the 29th, the Hounds will host Felician for their first game of the season. Opening faceoff is at 12 (noon) at the MultiSport Stadium at Assumption College. Then, the Hounds will host Post March 4th again at the MultiSport Stadium at 7pm before they head to North Carolina for spring break. Go Hounds!
4 comments