Continuing to shock the world of music: "Heaven or Hell" album review
---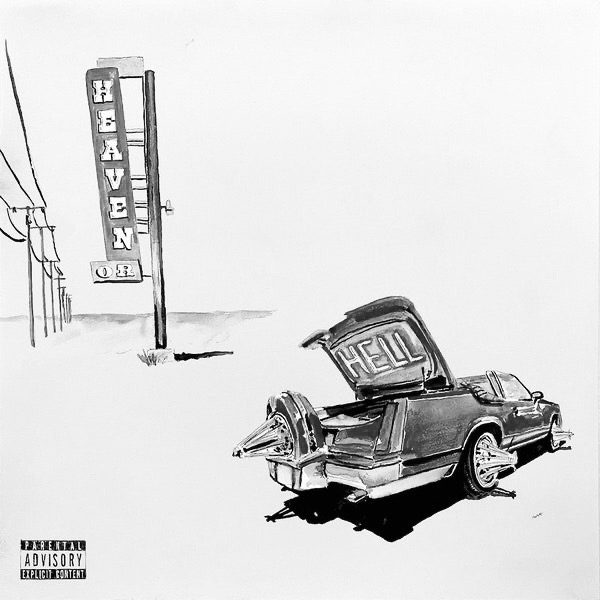 Seth Bogoslofski, Staff Writer
As a surplus of popular artists such as Lil Uzi Vert, PartyNextDoor, Lil Baby and The Weeknd have released new albums in the last few weeks; Don Toliver's "Heaven or Hell" has often been overlooked by music fanatics.
Caleb Zackery Toliver, frequently known by stage name Don Toliver, released his first major label mixtape, "Donny Womack," under Atlantic Records. As the Houston native continued to produce quality singles in his early years, rapper Travis Scott signed Toliver to his record label, Cactus Jack, on Aug. 6. Toliver appeared on Scott's third studio album "Astroworld," complimenting Scott throughout the song, "Can't Say." Underneath his Cactus Jack label, Toliver also was featured in the compilation label album, JackBoys, along with Scott and Sheck Wes.
"Heaven or Hell" was released on March 13 as Toliver's debut studio album underneath Cactus Jack Records. The track list situates at 12 songs, featuring hit singles "No Idea" and "Can't Feel My Legs." In addition, "Had Enough," also stands as a frontrunner for the album, featuring Migos stars, Quavo and Offset.
A fast-paced beat matched with a deep cutting bass, "Had Enough" rose to #52 on the Billboard Hot 100. The song does an excellent job at allowing the two features to shine, as Quavo ends the song with a melodical sequence that caps off an overall great piece. Between the three artists, neither piece of the song is the same, adding an exclusive style to the beat.
Incorporated single, "No Idea," best showcases Toliver's ability to fill the scoresheet with his incredible voice range. Peaking at #43 on the Billboard Hot 100, "No Idea" leads the album
in plays. The song launched itself up the charts, famously being remixed by DJ Purpberry, in a chopped and screwed remix that took the social media app TikTok by storm.
Toliver was sure to include his fellow Cactus Jack artists in "Spaceship" which features Sheck Wes. As the beat builds throughout the song, Toliver's autotuned inflection allows the perfect intro for a punch line produced by Sheck Wes. In "Euphoria," Travis Scott and Kaash Paige add two important elements to complete the song. The duo takes turns matching keys over a pianoesc beat accompanied by slowly timed snare clicks. Scott's classic voice adds depth to the entire first half of the song until Toliver makes an entrance. His lyrics are sure to tell more than just a story, as he describes the feeling of "euphoria" he receives from his partner's love.
The introductory song of the album "Heaven Or Hell" shares the story of Toliver's struggles in Houston, as he struggles to find which path he will take in life. The high register of the MC's voice become clear on tracks "After Party," "Cardigan" and "Wasted," which features deep stabbing melodies that allow Toliver to put his own staple on his songs. His influences go deeper than rapping about partying and money during "No Photos," as the artist sends a shout out to Gucci Mane mentioning that he idolized him as a kid. "Company" showcases Toliver's surprising ability to incorporate a broad vocabulary of lyrics while covering a variety of different styles.
Not to mention behind the mesmerizing voice similar to Travis Scott's, Don Toliver excels in producing quality beats that often change over the course of an entire song. Playing with echo and reverb, each beat is special in its own way. Similar to Scott's "Astroworld," many songs in the album are inspired by samples of a variety of different instruments. A blinding guitar solo can be heard in the end of "Candy," which is immediately followed by a finishing touch of melody from Toliver.
As the artist wishes to be the next big name out of Houston, his ties to Travis Scott will benefit him greatly. Together with his complete range of vocals sprinkled in with powerful autotune components, Toliver's "Heaven Or Hell" is an astounding testament to his growing skill as an up and coming vocalist. Personally, as a devoted fan of Travis Scott, the similarities between Scott and Don Toliver demonstrate a created style of music that the Houston born rappers can truly call their own. Watching Toliver evolve from "Donny Womack" with exceptional growth has hinted that he will continue to shock the music world as we know it.
Seth is a Marketing major in the class of 2023.
21 comments