"Knives Out:" A Fresh Take on the Typical 'whodunnit' Murder Mystery Movie
---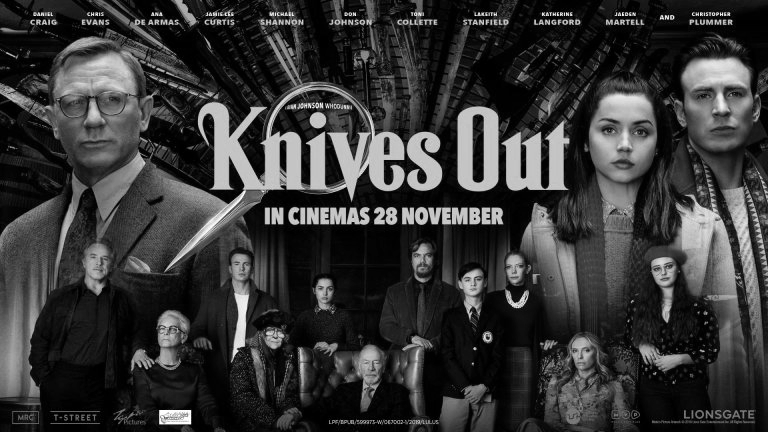 Jordan Gablaski, Staff Writer
"Knives Out" got a lot of hype…. A LOT. I was super disappointed that I didn't get to see this one in the theater, and waited (count em) about three months to get the thing on DVD from the library. So… that is basically a recipe for disaster, because by the time I saw it I had heard ALLLLLL the hype. I didn't even know what it was about, besides, ya know, murder mystery. Starring Ana de Armas, Daniel Craig, Jamie Lee Curtis and *swoon* Chris Evans, "Knives Out" was certainly one to keep you guessing. It was unusual and fun (well, as fun as a movie about murder can be, of course), but I had to work hard not to be too influenced by the hype.
"Knives Out" drops its audiences right into the action. The morning of the murder, the housekeeper finds 85-year-old murder mystery novelist, Harlan Thrombey, dead in his study. He suffers from a slit throat, and the police seem ready to wrap the case up as a suicide. That is… until famous detective Benoit Blanc (think Hercule Poirot, only Southern) arrives to investigate, having been hired by a mysterious unknown. Focus of the investigation shifts to Thrombey's family, the housekeeper and the home nurse, each introduced as they give their accounts of the birthday party the night Harlan died. Arguments and raised voices ran rampant that night. Many stand to benefit from Harlan's death. All are suspects. But wasn't this just a suicide? Blanc does not think so.
The situation is complicated further by the fact that the woman at the center of the investigation: Thrombey's personal nurse and good friend Marta, is someone who literally cannot lie without throwing up. Marta is perhaps closer to Thrombey than anyone and knows family secrets that no one would want getting out… if she knows more than she is letting on, she won't
be able to hide it. It is this slightly ridiculous and humorous personality trait of the main character that lends the film a unique point of view.
Honestly, that is all I am at liberty to tell you, plotwise. You kind of don't want any preconceived expectations before watching this one. If I say anymore, I would give away too much, and half the fun of this movie is trying to figure out where the hell it is going to end up. The other half comes from the wacky, eccentric personalities of the Thrombey family. A great cast of actors and actresses who lend their talents to a very interesting and humorous cast of characters. A very detestable group of people, and you are not entirely sure where their loyalties lie the entire time. Rich, entitled, conniving… maybe murderous??
The actors definitely had fun with this one, and a twist near the beginning makes this one quite different from any typical 'whodunnit' murder movie. It holds on to its secrets until the last few minutes, and yet still leaves a bit of an ending up to the imagination.
"Knives Out" will definitely keep you guessing, and if you managed to figure out the ending beforehand, color me impressed. Gold Star for you! I enjoyed watching a film that was fresh. Maybe we are all used to murder mysteries, but the characters made it unique. It wasn't predictable and it was far from boring. And who wouldn't want to watch Chris Evans for two hours? He may not have been dressed in stars and stripes, but he will always be my Captain. lol.
Rating: 8/10
For more movie reviews by the author, be sure to check out https://movication9.wordpress.com
Jordan is an English Major for the Class of 2020
7 comments