Be Nice to your Grocery Store Workers: An Inside Look at the Battle Against COVID-19
---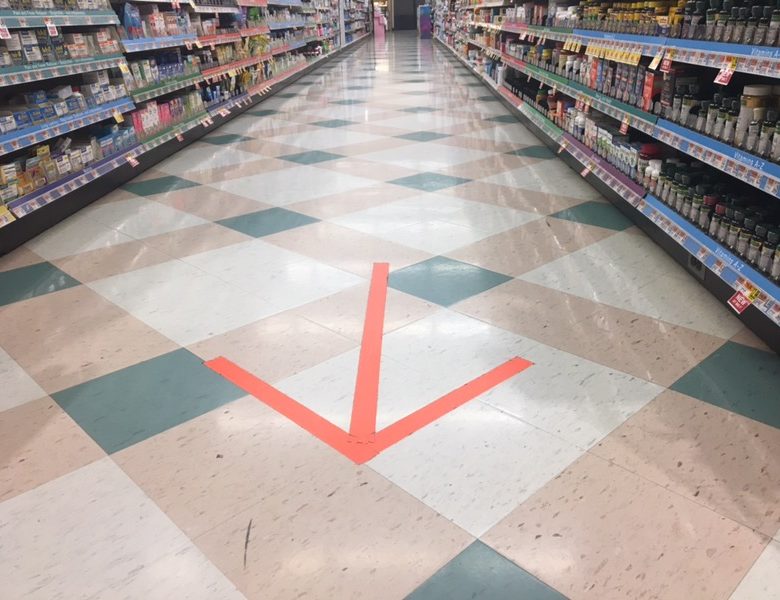 Tom Angell, Staff Writer
I started college with the mindset that the grocery store I worked at was God's gift to the world. As my college years went on, my love for this grocery store waned.
This past January I promised myself this was it; my time would be over working at my local gro-cery store. I would be student teaching in the spring semester, and my career would begin soon after.
However, with the outbreak of the Coronavirus here in the United States, I found myself back with a familiar number on my phone, it was my contact for Big Y. I made the call and expressed how I was going to be home for the foreseeable future and would love to be put back on the schedule. Two days later, I was back in my familiar apron, scanning and bagging groceries every day just like it was senior year of high school. As the days progressed, more and more of the col-lege students who had been gone all trickled back, suddenly it was 2016 all over again.
I was originally heartbroken like everyone when we were told to leave Assumption and move out. My home had been yanked away from me without much warning and just like everyone else I was devastated. I missed my roommates, and was longing for my students who I had the privi-lege of student teaching.
Although it was excruciating going from beginning my career to my high school job, my imme-diate thought was of gratefulness. I was extremely grateful that I still had an everyday job to go back to, and this gratefulness is something that I have tried to practice every day.
This nostalgia only lasted as quick as it takes to ring out a pack of gum and a bottled water. As the pandemic worsened the store got busier and busier. The only problem with that is that less and less people were coming in to work.
Many employees were shying away due to the risk of getting the virus which left a barebones crew to run the store. At one point we had two people in the entire front end for the first three hours of the shift. During the worst stretch of call outs, I worked 14 days in a row, not because I was scheduled, but because there was legitimately no one else to ring up groceries.
Our staff have endured a lot and I have learned quite a bit through my time on what many are re-ferring to as "the frontlines". My insights on what it is like to be working full time at a grocery store during a pandemic include why finding toilet paper is like a modern-day gold rush, to which sanitizer spray bottle sprays best.
One insight I keep coming back to revolves around the people who choose to shop at our store. The best people will treat you like a superhero. The worst people will be twice as rude. My first day back I remember being thanked profusely by a customer for working and showing up. I re-member feeling so confused at first. I was surprised that she equated me to a hero. I just felt like a down on his luck college senior who was just glad to have some grocery bags to pack.
If I'm being honest most days that is how I feel. Just glad to have a job, hoping that the custom-ers I meet that day are going to be nice to me. This unprecedented situation has revealed the truly good people from the not so good people. Those who refrain from getting angry when you men-tion for the 100th time that we are out of toilet paper tend to be good souls.
Unfortunately, people in general have tended to be more on edge, and it seems that the longer this goes on, the amount of people who are frustrated increases. Although this is the case, I have faith that consistent goodness will return as fear subsides.
Another distinct difference at Big Y is the physical appearance of the store. Plexiglass covers the registers and, there is tape on the floor to indicate where to stand in line for best social distancing practices. To add to that, I spent an entire shift a couple weeks back taping arrows on the floor to indicate which way customers can travel down an aisle.
Unfortunately, all of my hard work down on my hands and knees taping arrows to the floor has been for naught, as most customers ignore which way they are supposed to go. These social dis-tancing procedures have also led to grocery store lines the likes of which we haven't seen. Be-tween the combination of being busier than ever, and customers standing farther apart lines to check out have stretched all the way down the aisles almost to the back of the store.
At this point seeing lines this egregiously long just makes me laugh. Many of my coworkers start to panic, and I can see the stress on their faces, but I'm just numb to the craziness at this point.
The cleaning and sanitizing of our store has been another task that has been exponentially ramped up due to this virus. I have spent many shifts spraying down surfaces and wiping them clean. Although tedious and repetitive, it is an important job to do nonetheless and many custom-ers are appreciative of our efforts.
Our most recent addition to the list of things to clean is all of the carriages. We line them all up like a car wash and spray them down with a hose and sanitizer. I find solace in doing this as I get to be outside and usually throw on a podcast. Most customers have been grateful for this added cleaning, but some have definitely voiced their complaints that they have to walk farther to get a clean cart which is unfortunate, but inevitable.
Lastly, these times have led to an increase of both working class solidarity, and a sense of pride that a grocery store could be single handily run by college students. I feel a sense of togetherness with all of my fellow essential workers.
The working class is holding up society and there is something to be said for that. Working dur-ing the COVID-19 outbreak has made me extremely appreciative of a job I had once taken for granted, and I am grateful to be doing my part. The idea that as a society we are starting to re-spect essential workers more is one positive that I think can be taken from this.
This newfound respect shouldn't be forgotten when this virus dissipates. The world will change after the pandemic. My hope is people will be more grateful for those in their lives, and small gestures such as going out to eat won't be taken for granted. To add, it will be interesting to see
how policies such as the minimum wage and health care change as a result of the virus, as these are policies that affect essential workers every day.
I know we will get the chance to gather again, right now though we are all getting a chance to do our part. Whether it is staying at home or bagging groceries, we all have a job to do.
Tom Angell is a History and Education major for the Class of 2020
17 comments