Trust the Process: How Being a Club Sports Captain Changed my Life
---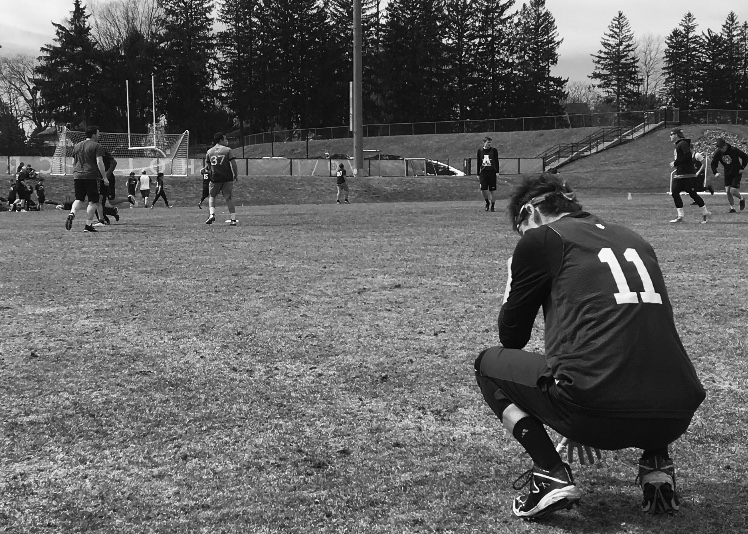 David Pepin, Editor-In-Chief
When we first started saying it, I'm pretty sure we were all just joking around. We had no idea that this silly little phrase would become somewhat of a lifestyle.
"Trust the Process."
You've probably heard it before. Probably in many contexts by many people, but it was popularized by the Philadelphia 76ers basketball team during the three NBA seasons between 2013 and 2016. The reason for its creation? To put it bluntly, that team was dreadful at that time. They went three seasons in a row without hitting 20 wins, good enough for a three-year record of 47-199 (.191). They needed something to give them hope.
That is where the process was born. This idea that to climb the mountain, you have to start at the bottom. Little by little you have to keep moving forward and advancing until you are no longer at the bottom, and then keep going until you are succeeding. It became a lifestyle for the 76ers organization — an obsession of hope that this was the turning point
My freshman year I joined the club ultimate frisbee team at Assumption and by February I had became the captain of the team. We found ourselves at the bottom of the mountain with a small team of about ten total and the risk of being discontinued as a program.
In the face of this uphill battle was where my team, and especially my other freshman teammates along with me, adopted the motto "Trust the Process." We didn't even intend for it to become our team motto at first, in fact I'm pretty sure whoever said it first was just playing around trying to compare us to the 76ers.
But little by little it started to make sense. We were a young and inexperienced team, and if we wanted to get better, and start to climb that mountain, we were going to have to trust in the weekly grind and really try to get better in every practice.
The good thing about having a team of mostly freshmen is that you have this great opportunity to grow as a team and get better as a team. Even though mostly everyone had never played an actual game of ultimate frisbee before, we had hope that we would get better with time. Anyone who has played a sport knows this to be true, you have to practice in order to get better.
So that's what we did. We practiced, and we practiced hard until that spring we were ready for our first game. We were ready to start a new era, an era that would be dominated by the trust that by our senior year we would get good enough to compete for tournament championships. This was the beginning of the era of "The Process."
So it all started with a dream, but the only way to get there was by working for it.
Our first game was on April 22, 2017. We hosted Clark University on the front lawn and famously wore intramural jerseys because we didn't even have any. It was a close game that went into overtime, but somehow this inexperienced and young team managed to come together and win 17-15.
I think "Trust the Process" was something we definitely accepted before this game, but now it was something we believed.
We came back sophomore year hungry for more, with eyes full of hope. We recruited the incoming freshman class hard and got a few to join. Suddenly we had a nice sized roster to work with, but we were still inexperienced.
After a 15-12 victory over Worcester rival Becker to start the season, we ended up going winless in the following two tournaments we went to, a combined 0-7. Tough reality check right?
The most amazing thing was that no matter how bad we were losing, the team always trusted that we would be better eventually. Sure we were losing then, but someday we would be winning. After every loss (and our one win), we got the team together and everyone put our hands in the middle for a "Trust the Process" chant. Suddenly that was our identity.
In the spring we hosted our very first tournament. Another important checkpoint to getting better.
Our total record for the 2017-18 season was 2-9. Not exactly glorious but hey, it didn't matter, we put the team on the right track and we were gaining experience. We had already completely changed the culture of the team in just a year, and it was recognized when we won the club sport of the year award. Just another step in the process.
The following year, we took the next step. Recruiting more players and getting better by adding to our experience. We went 3-5 on the season, but more importantly we began to prove to ourselves that we could not only be competitive against some really good teams, but we could actually win some games. The process was proving that we were making our way up the mountain. We weren't there yet though.
Senior year it was finally time. Four years of work leading up to the season where the process would pay off and we would be the best version of the team we could be.
My fellow members of the class of 2020 and I had waited four years for this. It was time to reach the top.
It started how we always knew it would. 4-1 in our first five games including a tie for second place finish at a tournament at Saint Anselm. However a depleted team cursed us at the next
tournament, but we defeated Becker to end the fall 5-5. We were going to need a good spring season to go out with a winning record.
Since this spring's season was cut short due to the COVID-19 pandemic, we only had one tournament. On March 1st, the team took the long trip up to Plymouth State University completely unaware that we would be leaving as champions.
We went 3-0 on the day, sweeping the competition on our way to a first place finish. After four years of work. After all the Tuesday night/Saturday morning practices, all the struggles, all the losing; the process finally paid off. From the verge of being cut as a program to tournament champions, we had trusted that the process would get us here and it delivered.
Just like the 76ers, who went from a rather discouraging situation to a championship contender in the Eastern Conference, we had brought this team from humble beginnings to an established and dangerous team on the field. A complete 180.
What I learned in being captain of this team for four years is that change is possible, but you have to work for it. Change also takes time. The team didn't magically get better my senior year, it was the cumulative product of four years' worth of work with the whole team working for that one goal.
I consider this team a success story just as much as I consider it a project that went according to plan.
I learned that you can apply the concept of "Trust the Process" to almost anything in life to improve your work ethic. You start with what you have, know what you want, and you work toward it.
After a while everything becomes part of a process. Just trust it. Trust it and work for it, and you will see results.
David Pepin, a senior, studies English Writing and Mass Communications. He is the Editor in Chief of Le Provocateur.
4 comments