Assumption Lacrosse: Thanks for letting me be your voice, I truly had the time of my life.
---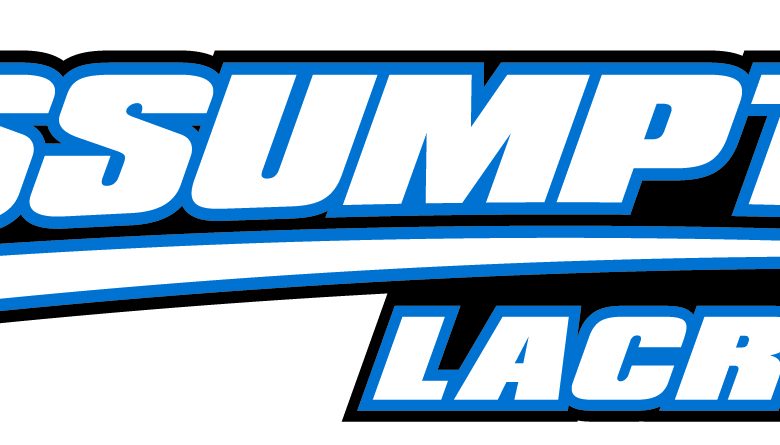 Ryan Morgera, Staff Writer
When I picked Assumption College, I did so because it felt like home. Not only did I have an older brother who I looked up to and admired, who was going to be a senior my freshman year, but he had a group of friends who were all equally admirable in their own ways.
His roommate, Jack, the captain of the lacrosse team, knew that I played lacrosse in high school, so instantly we connected because we had something big in common.
When I moved into Salisbury Hall in August of 2016, I walked around the building introducing myself to my new classmates and stumbled across a room with about 10 lacrosse sticks outside. Move in day is a very overwhelming day but picking out commonalities is usually the best way to make relationships, and so I introduced myself and told them I used to play lacrosse in high school.
You could tell right off the bat they were hysterical and easy-going kids, but what stuck out most was how serious they were when it came to talking lacrosse. I told them my brother lived with the captain of the team Jack, and that I'm sure I'd be seeing them around in the lacrosse room. We went our separate ways.
A few days later we began to hangout pretty regularly. Except only one thing was different, they had to go to team meetings and lifts, and I didn't. I missed being a part of a team. I missed practices and the comradery that comes with being a member of a team.
A few weeks later, Jack mentioned that the lacrosse team was short a few defensemen, and that the coach asked if any of them had friends at school who had played lacrosse before. Knowing I had played lacrosse, Jack mentioned the idea of trying to walk on, an idea I immediately brushed away because I knew I wasn't the best lacrosse player, and definitely not for Division II.
After talking with Owen, Jason and Will, I decided I'd give it a shot, and after winter break, I tried out for the team. Coach Keith Loftis was the coach at the time, and he called me into his office to tell me that he thought I'd be a good fit for the program, and that while I wouldn't see the field much if at all, that I would be able to learn from the juniors and seniors and hopefully come back sophomore year ready to help out on scout defense.
That spring was one of the best of my life. Right out of the gate, I got to witness the best lacrosse game I've ever been a part of, when we lost to Le Moyne, who was ranked #1 in the country and fresh off a national championship, in overtime. I immediately learned two things. One, Assumption was going to be an underdog kind of team, and two, there's no way in hell I am good enough to be on this team.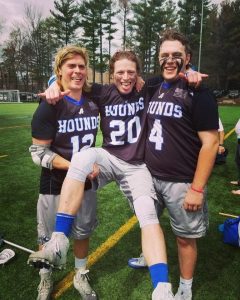 I worked my tail off that spring, practicing hard and working hard to not only become a better lacrosse player but just take in everything I could. I knew my place on the team, I knew I was never going to be a superstar, and probably never even see the field. But I owed it to myself to give it 110%. I even stick checked Travis Reid (Assumption Lacrosse's leading scorer) stick to the ground once (or twice), though I'll tell my kids that I did it every time we matched up.
Unfortunately, we did not make playoffs, and as the year came to an end, I went home and began to prepare for year #2. Throughout the summer I began to experience restless nights and began to wake up to the unsettling feeling of a dislocated shoulder. Night after night I woke up in excruciating pain, only to pop my shoulder back into place and try to fall back asleep. Some nights it was my right shoulder, others it was my left.
As the summer began to come to an end, I realized that playing lacrosse with two shoulders that regularly popped out wasn't going to be an easy task, and so I decided to get them checked out. With the right one being the worst, I got checked up and revealed that I had a torn labrum in my right shoulder.
A torn labrum is a very recoverable injury. Often times people come back stronger after surgery, and this is because of the intense physical therapy needed to get your shoulder back to the place it was before. For me, the shoulder gave me more trouble than I could've imagined.
Knowing I was a walk on, who had little to no chance of playing BEFORE I hurt my shoulder, I decided to step away from the game that I loved and move to the bleachers. Sophomore year was a difficult year, but very rewarding as well as I got to watch my friends who I had developed great relationships with succeed on the field after all the work they had put in the previous year.
It wasn't until my junior year that a new opportunity in lacrosse arose for me. At the time, Ben Stockwell was the athletic communications director at Assumption, and he reached out to me about possibly broadcasting some men's lacrosse games during the spring. I had experience with editing videos and being on camera from in high school as well as television production classes at Assumption, but I had no idea what kind of doors this would open for me.
Beginning in March of my junior year, I began broadcasting the home games for Men's and Women's lacrosse. This experience allowed me to stay involved with a sport I loved, but also allowed me to showcase the talents of my friends and recognize them for all they were doing. It allowed me to see lacrosse from an extremely different perspective, a perspective I instantly fell in love with.
What broadcasting did for me is something I'll never forget. It introduced me to a whole new world of sports. It introduced me to behind the scenes of lacrosse. It allowed me to share with viewers what I knew and had learned about the game. It allowed me to be myself, it allowed me to bring happiness to parents and siblings and friends watching at home. It wasn't ESPN, but every time I got on that broadcast, I knew I had to do the best I could to create a memorable experience for people watching at home.
This same year I also began to coach for my former lacrosse coach at Shrewsbury High School, Nate Skermont. It was really nice to be involved with lacrosse still, even though I wasn't playing, because I truly did miss it.
When I read NCAA's message a few days ago regarding the cancellation of all winter and spring athletic championships, my heart sank. Not for me, but for all my former teammates who I've had to pleasure of broadcasting for the last year or so. These guys work tirelessly at lacrosse. 6 a.m. lifts, long practices. Late nights doing homework and keeping up with schoolwork only to get up early and play lacrosse the next morning. Not to mention the 5+ hour bus rides to games that we all "loved". They put in so much work to get to this season, and I know they were bound for great things on the field.
When I stepped into the booth last Wednesday, I never in a million years would have guessed it would be the last time I'd get the chance to announce a game for my friends. I wish I took the opportunity to thank everyone, even if it's just 5 people, for allowing me into their homes and onto their screens, and for listening to me babble about who knows what. I hope I brought you some laughter, and some excitement.
I truly had the time of my life up in that booth, and I am so heartbroken knowing I'll never get the chance to do that again for this team. I don't know what my future holds, but I do know that I love working in the sports world. It has opened up so many doors for me, and while I am unsure of where I will be 1 year, 5 years, 10 years+, I'll always remember where I started and where I came from, and that's broadcasting for Assumption Men's Lacrosse.
Thank you to my former teammates, especially the Coneheads, Owen Jason and Will. If it weren't for you guys, I'd just be a fan. But lucky for me, I got to experience both worlds, and had the time of my life with each of them. I know you guys are all bound for great things, and I'm excited for where our futures will take us.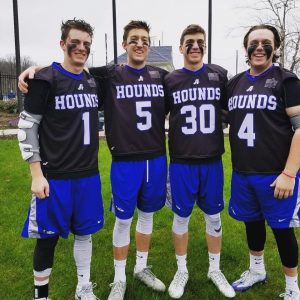 4 comments