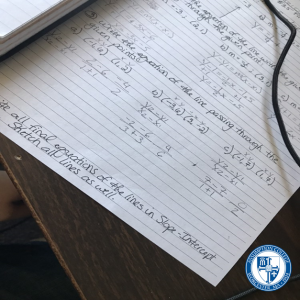 Joe Letizio, Arts & Entertainment Editor
During my sophomore year at Assumption College I learned two important things; (the importance of being punctual and how to manage my classes). Though it is easier to learn from my past in the present time, one thing I recommend each first-year to do especially with classes being online is establish a routine. 
While it is tempting to sleep through online classes, it will cause a negative effect, thus putting you at risk (perhaps not playing a sport, your G.P.A being effected, etc.). Regardless of what may happen, if you set up a routine for yourself this will make it easier in the long run to manage the stress which comes during finals week. With that being said, I have also created a schedule which makes me get up at the same time every day. The reason why I do this is due to two reasons (I get to focus on my own needs early in the morning, and get more done). For those who wake up early in the morning are able to accomplish more than those who sleep in, though this is tempting in the long run this hurts one's own path to achieving what they set out to do that day. Going along with this, I have also noticed several benefits to taking classes online one benefit from this is wearing comfortable clothes.
Comfortable Clothes
Though there are several perks to taking classes online, this is without a doubt the best perk! In fact, this saves you time to focus on more important things. Such as eating right and working out, for me personally, I have begun working out in the morning, though this is easier said than done. It comes down to timing, for those wondering where to start, I can firmly say that as long as you do a physical activity for 20 minutes your mental health will remain in a stable state.
Though it is tempting to hang out with friends especially after being cooped up at home during the summer you should keep in mind why you came to this University which is to get a degree. After this being said, you should realize that the real world does not give you second chances, in fact if you do not get your work done on time you will eventually be fired. Furthermore, you should study twice as much as you think you need to for exams and or quizzes, but never plagiarize as this could get you in trouble and hurt your reputation.
​As this article comes to an end, I leave you with this, while the experiences and memories are priceless. There is nothing I could ask for in exchange for the things I have both learned and been through here at Assumption University. My advice to the Class of 2024 is to make lasting memories. Take chances. Be careful. Work hard. Learn in and outside of  the classroom. Keep an open mind. Take what comes at you for what it is. And most importantly, live life to the fullest.
Welcome to Assumption University!