To My Beloved Greyhounds:
---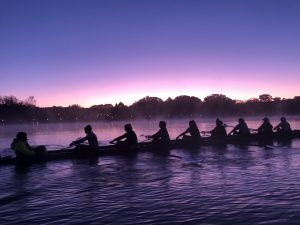 Gina Savino, Editor-in-Chief / Sports & News Editor
This is not the end. My last column of the year in the Spring was titled this. At the time, I obviously had no idea that I would be losing not just my Junior season, but also now my last fall season at Assumption. For many reasons, this same awful feeling that we are all experiencing in many different ways is something that others do not and will not understand. It is hard to explain to a relative or to a stranger or even to other students what we are feeling, because it is easy for them to say that we are being selfish for feeling something so deep about losing one or more of our collegiate seasons. I want to tell you that it is okay. You are allowed to be hurt, you are allowed to get upset, and you are allowed to mourn the loss of what might have been your last season as an NCAA athlete. The world is a crazy place right now, and it is absolutely okay to feel lost when such a huge part of who you are is out of your reach. I, and I assume many others, often turned to our sports for a way to release the stress and anxiety that comes with being a college student. Over the spring semester, and now the fall, student-athletes from all over the country at every level of play are collectively feeling this loss. You are not alone, and we will get through this.
I strongly encourage you to continue to keep close contact with your teammates. They are your family, and chances are, they are feeling the same things you are. Hounds help hounds. Your team is going to be your strongest support team. I am eternally grateful for my coach, who taught me how to row two months into my freshman year, even when the first thing I said in an email to her was, "I have some experience kayaking." I will never be able to really express how thankful I am for my teammates, who taught me not only how to be a better athlete, but a better teammate, and a better friend over these past 3 years. I am so excited about the first years that I get to meet. build strong bonds with, and teach them about the family that welcomed me as a walk-on just three short years ago. This family will love you, support you, push you to be your absolute best and then some, but they will always be there for you no matter what.
To my senior athletes, I am sorry. When everyone told us that our four years of being a college athlete would blow by, I do not think anyone knew that a pandemic would be the thing to cause the loss of not one, but two seasons of athletics. I wish that I had taken the advice of past coaches when they said to treat every second like it is gifted to you. That could not have been more true than when we got the call that we were not even allowed to attend our last spring break practice in the morning, so we had not known that last practice on the water was the last time we would be in a boat with the team for 10 months. Or more.
I know that it is easy to find yourself slipping into the uncertainty of the fall semester. To this, I quote my AAU basketball coach's favorite saying: "There are only three things in life that you can control. Your actions, your effort, and your attitude." We cannot control a public health crisis. We cannot control the NCAA or their decisions. Focus on the things you can control, and work on letting the things you can't work themselves out.
I am so lucky to be a part of Assumption Athletics and I will always be grateful for the memories and lifelong friendships, and another year to make more.
15 comments