Angelina Alfano: Most Innovative Fashionista
---
Joe Letizio Arts and En­ter­tain­ment ed­i­tor 
What has been your experience with Parfums Christian Dior, Osh Kosh B'Gosh, La Fiorentina, 11th Street Workshop, Orsman Design, Acqua di Parma, and your time as a consultant for Shiseido? 
Angelina expressed to me that she has been fortunate enough to love every team she has worked with this far in her career. Going more in depth with this, she believes that the environment you work in is just as, if not more important than the company itself. Switching from production, to lighting design, and then transitioning into beauty & fragrance has taught her that every job you work for will connect in the end. No matter how big or small the job is, you can & will pick up skills that will launch you to be successful in your career.
While she wouldn't say that she has a favorite company per say. She does believe that she has found her passion within the beauty community, working specifically with designer fragrances. Her time with Acqua di Parma and Dior have been nothing short of excellent.
Both of these companies value(d) her time as an employee, as they have allowed her to pitch her own ideas, and give a fresh perspective on a lot of topics, which has taught her that when you are young you should also be interviewing the company itself. Not only does it make both parties happy, but it motivates you to work harder when you feel connected to your work and environment.
When you are interning or even starting the first few years in your career, you should be able to look up to your bosses and get advice about your career. Through understanding this, she is happy to say that both her digital marketing and visual merchandising bosses at Acqua di Parma taught her so much about the industry, the importance of the company environment, and how to work hard. 
How did you learn the skills; web design, visual merchandising, E-commerce, Final Cut Pro, and Adobe? 
Ever since she was a child, she loved creating movie trailers and spoof videos on iMovie. As she grew older she took classes in Final Cut Pro and web design. 
* Although when she was younger she had no idea that she would end up with such a passion for visual merchandising. 
Throughout college she worked on set as a production assistant in the art department for TV, photoshoots, and music videos. Through these experiences she learned just how important lighting is, and the effects it can have on a room. After she transitioned to being a lighting designer, she found a passion for all aspects of design, leading her into visual merchandising to combine all three industries (production, lighting design, and beauty).
Top Accomplishments:
For someone who switched their major literally 6 times, and tested out multiple industries, her biggest accomplishment is the brands she has been able to put on her resume. As she sacrificed a lot to work, go to school, maintain a social life, and balance it all.
She is really proud that less than two years of time spent in the beauty industry she is now working with Dior. If she were to change anything about her past, she would go back and tell herself that mistakes happen, everyone feels nervous starting a new job, and that all of her hard work and sacrifice will pay off in the end.
 While not working with high end brands, she loves creating TikToks, she loves to film funny videos for her friends and enjoys painting time to time. Through these two activities she is able to self express herself, from style, entertainment and just pure enjoyment.   
If she could do anything in the world, she would love to create a skincare and cosmetic line that targets real skin issues. As she is someone that gets frequent facial eczema, psoriasis, and rosacea. She can speak to the fact that it's not fun, you don't feel confident, and there isn't a product on the market that doesn't involve steroids. With this being said, you should be able to feel confident, and know that the products you are putting on your face will not only help you feel good, but look good too. 
Through the various job experiences, she has demonstrated time and time again how to time manage, plan and understands the importance of being detail oriented. During her last year of college, she was working full time, while commuting 2 hours to/from school & work. She had to plan out every moment of her day and make sure that she was able to handle her busy schedule. Not only did commuting teach her time management, planning, and the importance of details, it also taught her how to be a morning person and the importance of keeping a routine.
Style/Entertainment:
Style and entertainment are two words that can be described in countless ways. As I talked with her it was easy to see that she fell in love with the entertaining industry from an early age. As she continues to find excitement when tapping into her creative side, to her this is no greater form of self expression than entertaining.  
She also believes that the entertainment people resonate with and like to create, depends on your own style. Everything around you can/will influence your style. As a result of that, it also defines exactly what each person finds entertaining. Which is why she looks to her friends for style inspiration and she partakes in self care to stay true to her own style, as she finds entertainment in people watching to observe what others think is stylish. 
Going off of this, her favorite department store is Barneys in SoHo before they closed. She absolutely loved the giant spiral staircase with the marble flooring, it was always so peaceful to browse and shop without having to travel all the way uptown. 
Motivation:
Seeing how far she has come in her personal career motivates her. A lot of people focus on the speed of their progress rather than the distance they have moved since they started. Looking back at her teenage self, and even child self, and seeing the hardworking woman she has become pushes her to keep going everyday!
Where do you see yourself in five years?
Within the next five years she hopes to still be involved in the beauty industry, however, she would love to be more focused on content creation and digital evolution of the fragrance world! Though she also wouldn't mind the possibility of eating clementines on the beach (who wouldn't).
Given how COVID has transpired a complete 180 within the entire beauty industry; from how brands market to consumers, to how consumers shop she is interested in the future to begin to learn more about what makes consumers align with a brand.
I urge you to start following this ambitious, energetic women today! 
Instagram: (Click Here) | LinkedIn: (Click Here)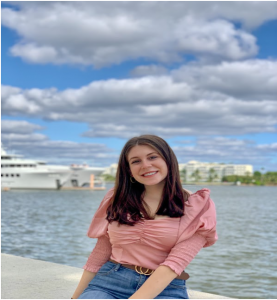 46 comments