DJ Pop Top: Jack Kenney
---
Joe Letizio Arts and En­ter­tain­ment ed­i­tor 
While many know Jack Kenney the go getter from Massachusetts, what many do not know is how he started his music career. Before attending UMASS he fell in love with music, after falling in love with artists like Fetty Wap, Backstreet Boys, Drake, Lil Wayne, Billy Joel he started his music journey when he began DJing weddings for a production company. Through the years he grew into the entertainer he is today through the use of clubs in Boston and parties all over the country.
Mr. Kenney a.k.a DJ Pop Top graduated from UMASS in 2019 with a Bachelors degree in Communication and Media Studies. Prior to Jack graduating he DJ'd for fraternity such as Kappa Delta Phi and clubs such as Amherst Pub which is unfortunately closed now. Although these years went by quick, if you were to ask DJ Pop Top if he would be a professional DJ four years ago he would have laughed, and said no. However, fast forward through the years and now he is the event specialist DJ/MC for Spinner Music Productions, while COVID-19 has impacted all of us differently for Mr. Kenney  he perfected his art and even produced more music for the world to hear.
During his time at iHeartRadio he was a promotions specialist from January 2019 till October 2019. During this time he learned how to make it happen not just inside the studio but outside through, becoming a growing DJ as he began to rise up the ranks as a DJ for Spinner Music Productions. As a DJ/MC, He handles the creative aspects of planning & performing unique events for New England clients. 
Lessons Taught
When DJ Pop Top first started the world was very different compared to now. With this being said, he had to learn several things about the entertainment world rather quickly. From accommodating high level clients to how to research/plan out events. He mastered all this while growing up in Plymouth Massachusetts. The areas he wants future entertainers to consider is; what kind of lighting will you use for events, what type of event is it, it is important to understand the genres that go together nicely and what genres to avoid lastly your successful gigs will determine how long you last for. The more enjoyment the crowd has, the better your chances are that you will make it.
To hear the music this talented artist has created click the links below:
Spotify (Click Here) | YouTube: (Click Here)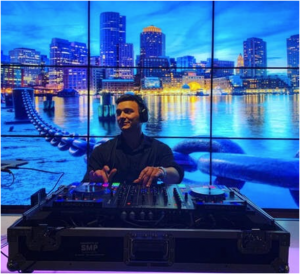 2 comments