Noah Hedberg: Keep on Swinging
---
Joe Letizio Arts and En­ter­tain­ment ed­i­tor 
After becoming a sophomore in the Florida Gulf Coast University Professional Golf Management program, Noah was then asked to consider the role of Treasurer for our student association. With nearly 140 students in the program, he was honored to be asked to take on this task. 
Climbing the Ranks:
After shadowing the treasurer before him for a semester, he had taken the reigns the start of my junior year. Managing the budget for the tournament, social, and events, he was responsible for understanding how to your QuickBooks and Excel, through these two programs he was then tasked with creating a budget that was broken down into each semester. After serving his first semester on the PGMSA (Professional Golf Management Student Association) Executive Board, there was going to be a vacancy in the Vice-President Position his junior year spring semester. After consultation with the Executive Board and the program director, they had decided that he would change his position to become the Vice-President, while also overseeing the incoming Treasurer and mentoring him until he felt confident in the role. After winning election to become Vice-President, there would be a vacancy in the presidency at the end of the 2020 spring semester. At the start of the summer of 2020, Noah had transitioned to become president of the FGCU PGMSA. The way in which the constitution and bylaws are written allow the vice-president to move directly to president with no election needed. Once the start of his senior year commenced, he had gone from treasurer of the program to president in less than a year. His time with the student Executive Board at FGCU has been nothing but amazing. Seeing a group of motivated students working together to plan and execute events for an organization of nearly 140 is extremely rewarding.
Internship Opportunity:
At the start of his second internship with TPC River Highlands in Cromwell, Connecticut, in the summer of 2019, he had the opportunity to help the assistant golf professional with the merchandise operation for the Travelers Championship. After planning and preparing for almost a month and a half for the tournament, it was finally commencing. At the start of the week, Noah had the opportunity to work closely with a member of the PGA TOUR family, who also happened to know the Managing Director at Liberty National Golf Club. After getting to know one another a little better, she had mentioned how the Managing Director wanted to create a new internship that is catered to learning the entire operation of a Golf Club. With this in mind, Noah knew that he had to apply for this. After a couple of months went by, he got on the phone with Lee Smith, PGA and had an interview for the Managing Director Internship. As they planned and prepared for his internship to start, he would not want to change how anything worked out.
Growing Up:
Growing up playing golf, Noah had always loved playing whatever "nice" clubs he could. After becoming a little better of a player and understanding what the club does during your swing and at impact, he has seen that Callaway clubs fit him best. Having played with Callaway irons for almost 5 years now, he can confidently say that they are consistently the best products on the market. In addition to this, he is fortunate enough to be a part of their professional staff and be a part of such a great family of golf professionals who sport the best clubs out there.
Free Time:
Free time for Noah is different than free time for most. As a golf professional your busiest days are the days that other people normally have off. With this being said, his "weekend" will normally be the days that everyone else starts their work week. Outside of working, he is still a student at Florida Gulf Coast University. While he is a candidate for May of 2021, he is still an active person on campus. For Noah, free time means working on things for the PGM Student Association, playing in golf tournaments, hitting golf balls, going to his 6am CrossFit classes, enjoying time with friends, meeting new people and developing himself through learning new things! 
Hobbies:
His hobbies include; playing golf, hanging out with friends, going to CrossFit, learning and reading about the golf industry, developing his school's Student Association and making himself a better golfer. 
Advice:
Some of the best advice that he has been given is to enjoy the moment. Do not get caught up in the destination so much that you forget about the journey. Never forget that life is about enjoying the moment.
Next Steps:
The next step for Noah is to finish out his final semester at Florida Gulf Coast University and then graduate in May of 2021. From there he will then head up to Essex County Club where he will begin his career as an Assistant Golf Professional and become "class A" PGA in July of 2021.
An Average Day:
An average day Monday-Friday for Noah will be to wake up, head to work, go to his CrossFit class at either 6am or 4:30pm (dependent on his work schedule), head to the driving range or work on his short game, work on responsibilities for his Student Association, catch up with friends and family before bed, and then head to bed.
What Others Should Know:
Some advice that Noah would want others to know is that everything you do; you do for a reason. A lot of younger students he sees come into the program do not understand why you might wipe down a cart after every time you wash it or clean the balls on the chipping green every hour. But there is a reason for everything. Allowing every person that walks through your doors to experience your highest level of service, every day, is why they are there.  Everyone you meet, whether it is a PGA TOUR golfer, or a guest of a member, gets treated with the same respect and service. No one that you serve should be treated differently just because of who they are. Everyone gets the same five-star service with a smile on your face. Being a person in a high-level service atmosphere is not for everyone, and it is alright if it is not for you. But if you are in this environment, you need to have a true passion for service. If you do, your time serving those around you (members and employees) will make your job extremely fun.
A Day Without Technology:
If Noah was to go an entire day without technology, he would be playing 36 holes of golf with his brother and friends, with a lunch of a buffalo chicken wrap in between 18. Later that night they would sit out on the patio of the clubhouse and watch the sunset while eating dinner. While the golf business is not for everyone and everyone is not made for the golf business. You need to love what you do and love serving people. Never let go of why you are in the business in the first place: for the love of the game. Never lose the drive and desire to make yourself better and always push yourself to achieve more. Make yourself a better person today than you were yesterday.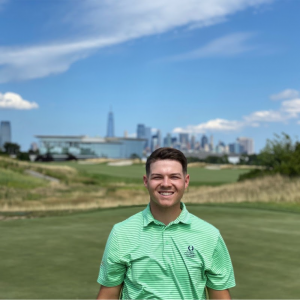 4 comments