Riley: Rising Artist
---
Joe Letizio Arts and Entertainment editor 
Growing Up:
As a kid Riley loved to put on her own shows where she danced, her father unfortunately died before she was born. Which led to her mother taking on the role of being an amazing mother. During her adolescence, her mother was supportive from gymnastics to vocal lessons her mother was always supportive of her dreams and goals. While in school, she was a very good student unfortunately she ended up getting sick in 10th grade and went home to study and tested out which led to her graduating early. The best and worst subjects for her were English and her least favorite class was Geometry. 
During her free time going up, her and her friends would go to the park and they would all go and play together from football friends to people from church they would go to the movies, Jack in the Box or get Jamba Juice. (Currently, she loves going to the beach)! For those who do not know, she grew up in Cerritos and Fontana, now she lives in North Hollywood. One interesting story is the time she went to a family grad party which led to her getting knocked out. As a kid she loved to race, so she went to one of her family friends' graduation parties with Jeremy, after Jeremy and her agreed the race the inner competitor came out and she ended up running into a wall.
After hitting the wall she ended up getting a concussion which led to her hitting the wall and blacking out.
Fashion:
Her favorite store was Nordstrom, if she had to describe her fashion sense she is quirky yet innovative which often leads to her dressing in unique styles.
Languages:
While Riley is proficient in English she learned French when she was younger as well as sign language but forgot it.
Inspiration:
What inspires Riley, is the ability to try new things from new food, to new life experiences! 
Attract your Attention:
Things Riley admires the most about the people she meets is how innovative some people are, however this is not the only factor she notices in others. The other characteristics include; people speaking their mind, those who are natural born leaders.
Swae Lee:
The most memorable experience she had in the industry was being able to meet Swae Lee. During an artist session, she was able to connect with Swae Lee. The first thing she noticed was how quickly he writes, he worked for 20 hours straight and was the first one in and the last one to leave the studio. 
While in the studio, she doesn't need much besides some good wine.
He had melody, after melody, after melody! From his chains to his manner, the only thing he focused on while in the studio was on the music.   
Describe your Sound:
While her sound is constantly evolving, she loves working with new producers and the way she described her sound was as a cosmic ride. 
Creativity:
Although she likes to take part in recreational activity, she also loves photography and art. While she doesn't use TikTok so much, she does however go on Instagram regularly. 
Songs:
With COVID her vibe has been killed, but she has been writing a few songs the other day. What made her go into the music industry was seeing her aunt who used to sing in a gospel group wear beautiful dresses and jewelry. In addition to this, her mom worked a lot in the industry and hosted showcases. Above all else she has recognized, how significant music is and how empowering it can make each one of us feel.
Performance Anxiety:
While she doesn't have performance anxiety, she does get nervous from time to time.
Dream Collaboration:
While there are so many people she would love to collaborate with, her top artist is Snoop Dogg because she was also from Long Beach. 
Career Highlight:
From being able to be featured to DMV Daily these are the two best highlights she had from her career. 
Inspiration: 
From Prince, to Micheal Jackson her inspiration comes from these two artist as well as; TLC, Chaka Khan, and Britney Spears. After I asked her about the recent news about Spears she expressed to me how saddening it was for her to hear what was being said. 
Venues:
Her favorite venue was Sayer Club where it was her first show and opened up for LA, from the venue to the crowd she loved every moment of it!
Rituals:
She loves to chase the crowd!
Singing in the Shower:
Yes, and her favorite go to song is Britney Spears song Stronger or Toxic!
Celebrity Crush:
Her celebrity crush is Damson Idris.
Pet Peeve:
Her biggest pet peeves are liars, and friends who are storytellers. 
Travel:
She wants to either retire in Peru or go to the UK, as for her dream trip would be to go to Brazil. Which isn't surprising considering she is a leo like me and wants to be the king of the jungle!
Message to Fans:
Riley has expressed to me the importance she feels to her fans to be innovative as an artist; from sound to style and videos she wants to be a cool artist people will remember!
Favorite Movie:
From Autumn New York to BeetleJuice, these are her two favorite movies!
Average Day:
Riley's average day starts with her phone ringing off the hook, then she checks her emails after which she then heads off to the beach or to the grocery store to grab food and flowers for the kitchen. If she's not in the studio she is cooking as she loves to cook! Recently due to COVID she usually watches something cool, then plans for the next day!
To follow this creative individual, you can find her on Instagram, Snapchat and Twitter!
Officiallyriley (Instagram, Snapchat) | weirdassriley (Twitter)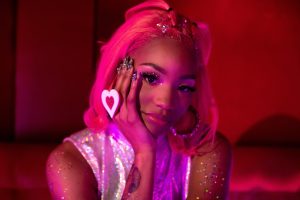 65 comments