Yung Lean: Starz (Album Review)
---
Meredith Backman, Staff Writer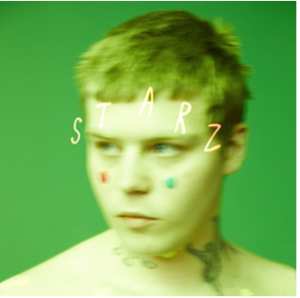 On the Swedish rappers seventh album, Starz, Yung Lean's trail-blazing style and authentic persona comes to further fruition in his 2020 project. From his viral internet popularity in 2013 and 2014 with songs such as "Hurt", "Ginseng Strip 2002", and "Oreomilkshake", Jonatan Leandoer has created a space for the outcasts of what rap should "look like" or "sound like". As a teenage boy from Stockholm obsessed with American culture, his imagery and cloud-rap genre have held an iconic space in internet subculture, popularizing the "Vaporwave" movement, influencing the direction of street culture and popular rap artists across the globe. 
Through his trials and tribulations as an artist seeking to develop and authenticate his own sound as well as allowing space to evolve the "Yung Lean" persona, Starz is a product of such growth. From Vice's recent YouTube release of their documentary on Leandoer, "Yung Lean: In My Head", viewers get a glimpse into the rise of stardom of Lean and the Sad Boys, as well as the complications that developed from whirlwind success. While touring the world in 2014 and 2015, the temptations of drugs quickly became ritual behaviors. The combination of brutal tour life, over-usage of drugs and alcohol, and recording the album "Warlord", of which today is the 5th anniversary, eventually led to Leandoer experiencing acute paranoia and hallucinations, eventually experiencing a psychotic break that forced him into hospitalization. He was later diagnosed as bipolar and has since distanced himself from substance use for his mental health as well as the trauma of his U.S. manager, Baron Machat, dying in a car crash in Miami, resulting from being high on Xanax.  
Leandoer has since looked deeper inward in his music and has invested himself in making meaningful and explorative projects that fulfill his signature sense of bleakness and emptiness. His melodic enterprises have reached peak development on Starz, while balancing out his atmospheric elements and grappling with his demons. On the opening track, "My Agenda", we are greeted with classic Lean reference styles and foreboding tenor. He describes a "World of snakes so these butterflies get corrupt", describing how creativity and expression is so easily stifled in a world full of negative forces attempting to clip the wings of budding evolution. A killer line that sets the tone for the album is "All-star, no face, ski mask my agenda". His charismatic, take-no-prisoners approach to his music initiates the attitude for the rest of the album. 
Lean goes back to his dark time spent in Miami working on Warlord in his second track, "Yayo". The song is essentially a two-minute hook, repeating "Miami yayo, yayo, yayo". Yayo is a slang term for cocaine, which makes sense in regards to his drug-fueled stay in the city. He further references his relationships to locations with substances in "Acid at 7/11". Lean recounts his worst drug experience as a trip to 7/11 in Canada, in which he was high on LSD and saw a man outside the convenience store crack his skull open. Despite the moment being so negative, Lean's talent for painting harrowing experiences in an ethereal, light-hearted way is displayed. Despite the bleeding man in front of him, Lean seems to be more concerned with how clean his fit is: "DG on our jeans / VV on my neck, VV on my sleeve (Westwood)". He romanticizes and deflects the dark traumas and mondain elements of life with his spacey melodies, airy beats, and sprinkling of designer names, pop-culture references, and outlandish metaphors in his lyrics. 
His flair for romanticization is evident in the title track, "Starz", featuring the incomparable Ariel Pink. Lean recounts child-like summer love for a girl that transcends space and time, as they both "Walk with the stars", and his love interest "never ends", a common sentiment to the realm of puppy love. 
On the lead single, "Boylife in EU", Lean jumps back to his expression through dreams as a vehicle to explain state of mind and emotion, as if reality is to be grappled with and unrelated to the concept of consciousness. "Touch me, decompose me / Heal me". The contradiction of action and outcome creates a complex narrative to "Boylife in EU", as it describes a breaking-down of self in a harrowing haven. Lean reverts to the idea of dreams, to "Pretend this dream will never end / Some things can't be unsaid / Awake, awake (awake again)". The 14th track, "Low", opens with a melody reminiscent of the track "Sunrise Angel", off of Unknown Memory. "Low" is a great track to round out Starz as it incorporates many of the elements signature to Lean, such as his introspection, material flexing, and lyrical droning. Lean states "I'm only 23 but there's like, like, ten of me". Lean jumpstarted the cloud rap movement early on in his career, which led many others to replicate his sound, like clones. As Yung Lean is one of his many creative "projects", he expresses different elements of himself in each "alter-ego". He follows this line with a classic Lean statement: "Fendi tee, there's no remedy". He later goes on to reference Machat, saying that the two will someday "meet again". In the last bars, he describes an interaction with a strung-out girl looking to score. Lean shares some pills with her, describing himself as a "lowlife", and that "I'll do anything you want". The people-pleasing attitude and blind empathy towards those struggling with inner demons seems to be shown as weakness. Lean's ability to account for the losses in his own life and observe his dissociative tendencies is a rawer side that we have recently been able to see from him, and it welcomed readily by fans. 
Yung Lean continues to evolve as a creative force in the world of rap, pushing the boundaries of what his visual and lyrical enterprises consist of. The recognizable elements of what made him such a revered and beloved artist are still evident in his latest album, but the depth and willingness to explore his thoughts and ideas are welcomed developments, which could be due to wisdom with age and experience. On Starz, Lean shows us that you cannot put him in a box when it comes to his art; he creates a shape of his own. 
7 comments