Do You Know Ms. Watson?
---
Joe Letizio Arts and En­ter­tain­ment ed­i­tor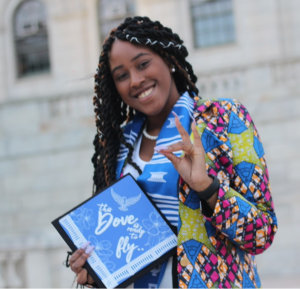 When I asked Jocelyn what style means to her, she explained that to her that style means being unapologetically you. No matter what everyone else thinks. Having that confidence to portray your art is powerful. It's saying you believe in yourself and everything that you do. No matter how big or small. Style means everything because at the end of the day the shows who you are, inside and out.  
Nike
Nike has been a great experience for Jocelyn, for her it has been a great way to stay in the know in regards to sports and the products the players use. As she explained to me, every time she has worked for the company no matter what store, she always had a great Nike family to take care of her and make sure that they all work hard but also have a great time and learn. While she has enjoyed her time working at Nike, her favorite department store is Nordstrom.
The Marriott
Another company she worked for was The Marriott  which was an amazing workplace. As she was able to help out with multiple event per day and it ranged from how many people or what industry was an awesome sight to see. For Jocelyn it was great to network and really learn how to run events with people. Unfortunately, however, she fractured her foot and had to stop working there. But during the short time she worked there was truly amazing and she can't wait to get her hands back in the sport event industry to combine this experience moving forward.  
Following this, The Madison Square Garden Company was her first "big girl" job out of college. When she walked in there she walked in with very bright eyed and ready to be the best at what she did. The people there really were a family, the biggest thing she learned at this company was what she didn't like and what she really wanted to do in her career. In the end, she looked back on this experience as a learning experience and made sure that she did not make the same mistake she did there anywhere else. 
College Experience
What led her to choose JWU is the major Sports/Entertainment/Event Management. As she never saw a major like that. It really focuses on all these three majors and being able to learn about each was awesome. The best part of it all was learning that she can combine them and make a career out of it. That something when she was applying to schools she did not see. Most schools just wanted you to pick one which is something she was not looking for. The SEEM Leadership conference is a conference JWU SEEM (Sports/Entertainment/Events Management) Department put on every year. Hosting A panel of guests in the industry as well as networking breakfasts and cocktail parties. In addition to this, it includes a career fair on the last day. It is a way for students to connect with the industry early on, through gaining internships, though the career fair, and even jobs after college.
This was a year long planning process, and counted as a class which was great because not only did she communicate her own thoughts and ideas, but also through being hands on in that experience was more than a class could ever teach her. In the end, it was really awesome to be a part of that and she is so happy that she was able to connect with so many people. 
Top Accomplishments
Her top accomplishments are finishing her bachelor's degree a year early and getting her Master's degree. Through being able to get that foundation early and take more credits than others, really helped her work even harder and teach herself about discipline. In addition to this, it also forced her to become even more organized to be ready for the real world and her MBA. She was also the first in her family to graduate from a university and the first to graduate with an MBA. While not in class or working, she likes watching baseball & football. In addition to this, she likes shopping, traveling around the world, planning parties & events and hanging out with family and friends. With this in mind, some people she looks  up to are Derek Jeter, Chadwick Bosman, and her own parents. 
Derek Jeter is an important person to her because of his hard work on and  off the field.  As for Chadwick she looked up to his for his positive outward attitude. No matter how bad it got, he hid all his battles and obstacles from the world and gave timeless pieces of art. And of course her own parents. Growing up, her parents both had really great jobs and knowing that, she had a little more than the regular child. But they gave her those opportunities to be better and show her that she can have whatever she put her mind to.
0 comments