Fellow Hound Mr. Belleville
---
Joe Letizio Arts and En­ter­tain­ment ed­i­tor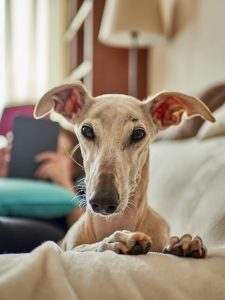 From dealing with complex/confidential situations to strengthening his interpersonal skills, each experience has taught Mr. Belleville something. While he is a Disney nerd at heart, the best experience was his time working at The Walt Disney Company.  
Top Accomplishments:
One of his top accomplishments was being able to direct "Heathers: The Musical" for the UMass Theatre Guild. It was one of the most challenging projects he has been tasked with and the most rewarding to see from beginning to end. Some other accomplishments include; Dean's list every semester of college at both UMass and Assumption, earning a spot in the HR Rotational Program at Gates Corporation. 
During his time at Assumption College his top accomplishments include; being the President of his class, being an orientation leader/RA, getting the lead in the school's musical, MR. Assumption 2016, and Mr. Worcester 2016.
Assumption College/Isenberg School of Management:
Originally he told me that he wanted a smaller institution that fostered a strong sense of community and the ability for professors to work one-on-one with their students. When the opportunity came for him to join the Isenberg School of Management at UMass Amherst, he couldn't refuse as their business program is highly regarded. (As he loved business and felt that it would be the best opportunity for a change).
Hobbies:
Some of Brian's hobbies include; snowboarding, hiking, volleyball, traveling, and of course theatre; both being involved and attending performances.
Style/Entertainment:
For Brian style and entertainment mean enjoying and celebrating one's individuality. First off, his love for colorful clothing and up-beat entertainment. In addition to this, he loves classical entertainment, so he has a variety of entertainment genres that he adores.
Work Experience:
From Entertainment Cruises, University of Massachusetts Theatre Guild, and The Walt Disney Company his favorite experiences are being able to bartend on Boston Harbor and provide world class service to guests. (Who doesn't love having your front office be the ocean)?! In addition to this, UMTG allowed him to see his production come to fruition. As there was so much effort done by over 100+ people for this production and he couldn't be happier with everyone's continued dedication to the show. 
Following this TWDC allowed him to create happiness for guests as you never know why someone comes to Disney and it could be for a very emotional or important reason. Through providing each guest with exceptional service and going above and beyond made him feel fulfilled in the position.
French & Italian:
French and Italian help him understand how to communicate with other business leaders. As he will say that he is better at reading/listening to the languages; however, he can get by with speaking them relatively well. Knowing French helped him with Italian as they are both in the Romance family. | Some countries even use French as their business language!
0 comments