St. Pierre | Photography
---
Joe Letizio Arts and En­ter­tain­ment ed­i­tor
How did you start your photography company?
I started my love of photography when I was travelling the world as a kitchen chef/cook. As I was traveling through and working in other countries, I bought a really nice camera and a couple of lenses. I started taking photos as a hobby but friends and coworkers started asking if they could buy copies of the photos that I took. After a while I started getting tired of cooking as a profession and started looking into the business aspect of photography so that I could do that full time and support myself.
Did you have a mentor or were you self-taught?
I am mostly self taught through trial and error but I did have a lot of mentors along the way. My biggest mentors were John Koulbanis and Danny Hyland. When I worked part time as a staff photographer for the Westerly Sun Newspaper, they were the full time veteran photographers that worked there. They always took their time to give other photographers more insight into taking photos that told a story. Also I read a lot of books and magazine articles on the subject.
What advice would you give aspiring photographers?
Shoot, shoot, shoot. Just keep taking photos! Always try new techniques and perfect the old ones. Keep reading new material on photography and keep looking towards other people's pictures to give you inspiration.
When you first started your company would you have done anything differently?
I don't think so. Because I took my time and started slowly, I do not think it could have been any other way.
Who has influenced your way of thinking?
As far as photography, the mentors I mentioned before. They really influenced the way I look at creating a photograph. Also, british photographer and author John Hedgecoe. I've read a lot of his books on photography and I'm always thinking back to his simple approach and style of photography.
Would you have started another company instead of photography?
Not really. I love photography and hope to keep doing it and having fun with it for a long time.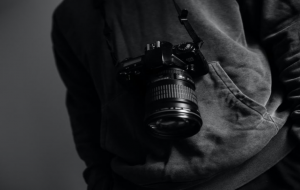 What other hobbies do you have?
My other hobbies include anything involving the outdoors. Camping, hiking and boating are just a few. I also like to play around with hobby electronics.
What are your top accomplishments?
When I was working at the Westerly Sun Newspaper, I won a number of awards from different press associations. That was always a great feeling to be recognized for my professional photography work.
What are your strengths and weaknesses?
I like to think that my technical knowledge of photography has been one of my greatest strengths. But I always feel that I could be a little more artistic in my work and I look at that as a weakness. This is something that I am always trying to improve upon by studying other photographer's work and even by looking at great paintings.
Did you go to college for photography? 
No
0 comments