Setting students up for success
---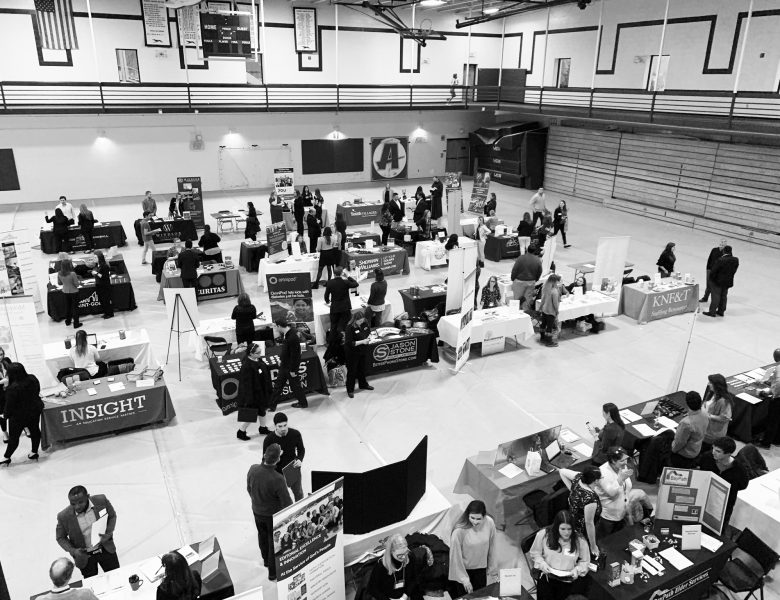 Kelsey Mattar
Staff Writer
The Assumption College Career Development and Internship Center (CDIC) held its annual Career and Internship Fair on February 13th in the Plourde Recreation Center.
"We host this event as a way to connect our students to local, national and international companies for job and internship opportunities," said Shannon Curtis, director of the CDIC. "This is also a great event for students to explore career paths and learn more about how their degree transfers to a career."
For those who could not attend the Career and Internship Fair, here's some important information you may have missed:
TJX Companies, the leading off-price retailer of apparel and home fashions in the U.S. and worldwide made an appearance, and they provided some quality tips on what to seek out at these types of events.  The organization said it looks for "operation and distribution interns. Who know about or want to learn about supply chain management. Hands-on people. Every day is different."
TJX recruiters emphasized the importance to "know your goals and your interests, and be able to communicate those." And in terms of your resume, TJX prefers online submissions. However, they always accept hard copies. A TJX tip to spruce up your resume: "try and fit as much of yourself and your highlights on that page."
The Hanover Insurance Group's Marianne Muro and Assumption Alumni Chris Cuzzupe '17 were also present at the Fair and shared some useful advice for the Assumption students. According to Muro, Hanover looks for students who can communicate and make and maintain eye contact. They are most interested in those who are not afraid to speak up, who are eager to learn, and who are genuine people.
Muro added that when prospective applicants approach Hanover's table, recruiters prefer that students act genuine and are honest. Hanover's recruiters are looking for genuinely kind individuals. Cuzzupe said he likes to challenge the students, asking them to "show us who you are."
Like TJX, Hanover will always look at the resumes they receive at the Career and Internship Fair. They begin to sift through the resumes when they are back on site, as this is how they get their interns.
According to Muro, employers look closely for what their candidates do outside of the classroom, including "extracurricular activities, work experience or some sort of class you took that applies to the job or position you are applying for. Tailor your resume to the job or position you are trying to get," she said.
Students like Maria Cafferty '19 and Arthur Elbthal '19 were more than ready to tackle the opportunities the Fair presented them with. Cafferty took many elements into account before attending the event. "I thought about: life, the future, what I expect of myself and what my dreams are so I can see what career paths, companies, and organizations would allow me to get where I want to be," she said. 
Elbthal took some time to print out copies of resumes and organize them. He prepares different formats of the resume for different business sectors, for example, management, marketing, or sales. Elbthal then looks over his resume and finds main talking points. Finally, he goes online to research the companies that will be in attendance. "Oh, and I dress up," he added.
If you see the CDIC's Shannon Curtis or Kelly Stairs walking around, give them a thank you. Why? Because this event takes a lot of work and planning months in advance. The CDIC puts a lot of effort into getting these employers to take time out of their busy lives to come here and network with Assumption students.
"The CDIC invites a wide variety of employers to appeal to students across all different majors and career interests," Curtis said, elaborating on how she recruits employers. "Employers who have attended the event in previous years, who have expressed an interest in recruiting Assumption College students, who have posted job and internship positions at Assumption, and who we think would be of interest to the students are invited to attend."
"It is so incredibly rewarding," Curtis beamed with pride, "We love to see students connect with employers at this event to network and learn more about job and internship opportunities." The most exciting part about this event for Curtis is "the excitement of the students when they have great a conversation with an employer."
Events such as these are extremely beneficial in terms of networking and attaining internships and jobs. If you missed it this time around, be sure to check out next year's Fair. You don't want to miss out on this opportunity.
Kelsey Mattar, a senior, studies Organizational Communications and Spanish. She is a staff writer for Le Provocateur.
5 comments