"Dress for Success"
---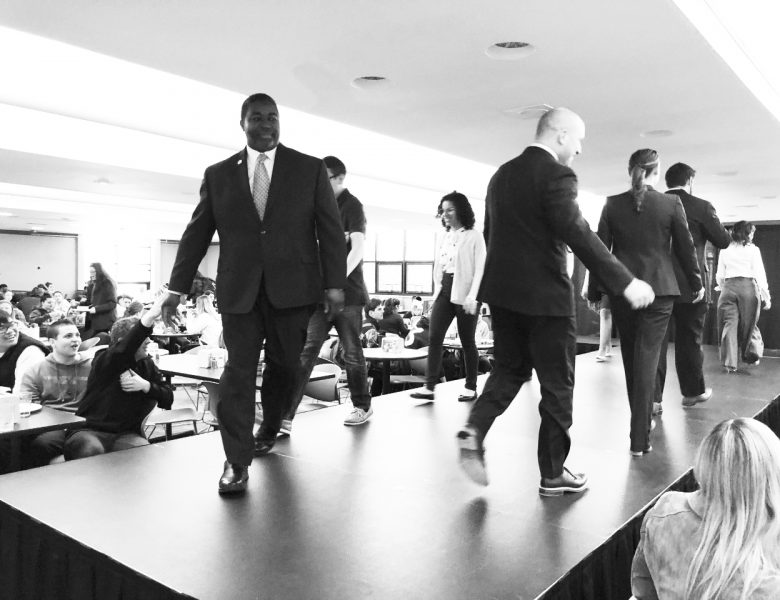 Sarah Ardolino
Staff Writer
"Informative, fun and energetic," Kelly Stairs described the Career Development and Internship Center's (CDIC) sixth annual Dress for Success Fashion Show. Stairs is a Career Advisor at the CDIC. She was responsible for getting the show up and running this year. The CDIC held the fashion show in Taylor Dining Hall on Thursday, January 31st.
Sponsored by Enterprise Car Rental, the Dress for Success Fashion Show is meant to educate students on what to wear for the upcoming Career and Internship Fair.
The models, composed of Assumption College students and staff who walked down the runway and demonstrated the "do's and don'ts" of professional dress. Blazers, statement necklaces, and dress shoes were sported as the student body cheered on the models.
The categories modeled were casual, business casual, and business professional. There was also an accessories category to show students good accessories versus inappropriate accessories. For example, a padfolio is appropriate, while a notebook is not.
"We started doing the fashion show because we were finding that students had no idea what to wear, not only to the career fair, but to interviews and to first days on the job, " said Stairs. "It was started to help showcase more of what they should be wearing, but also, to showcase what not to wear."
Tim Cody, a model in the 2019 CDIC fashion show said, "It was a privilege to be able to display and educate my fellow students in the field of fashion in the workplace."
The annual Dress for Success Fashion is a visual, hands-on learning experience for students new to the career world and struggling to find something appropriate to wear.
"I can absolutely see the value of [the fashion show] for some people who are new to interviews and such, like the audience of freshman at Tay's" said Sean Bannon, a junior at Assumption College. He was one of many who enjoyed watching the fashion show during the common hour in Taylor.
Every year, the Fashion Show helps students learn how to dress for the upcoming Career and Internship Fair. This year, the career fair is being held on Wednesday, February 13th from 4:30 p.m. to 6:30 p.m., in the Plourde Gym. "We have around 80 employers coming this year, which is really exciting, and we also have the Worcester Red Sox coming," said Stairs. In addition to the extensive list of employers registered to be at the fair, there will be a professional photographer open to students to take headshots.
Make sure to attend the Career and Internship Fair February 13th.  Professional Dress and a student ID are required for this event. Pre-registration for students is not required.
The student models that participated in the fashion show were Timothy Cody, Sarah Cordio, Kashmir Flood, Alea Ketchum, Zachary Sneeringer, Edil Yassin, Mike Turaj
and Sarah Ardolino.
The Assumption College staff included, Michael DiPiazza (Director of Undergraduate Admissions & Recruitment), Karen Stoyanoff (Director of Recruitment for Graduate Enrollment), Andrew Kupec (Senior Assistant Director of Admissions), Kaitlin Bevins (Director of Student Activities and Leadership Development), and Conway Campbell (Dean of Students).
1 comment