Welcome to the New: Seniors Attend Annual Senior Retreat
---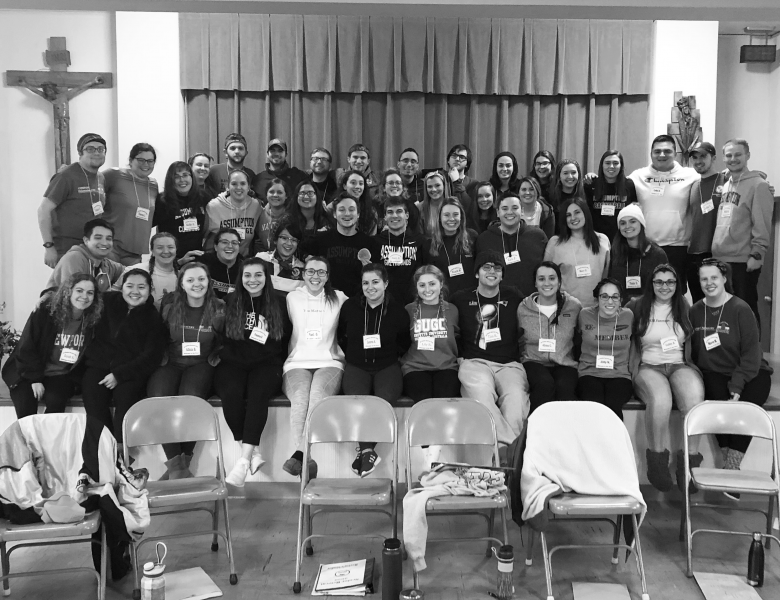 Alicia Burrows, Assistant Editor-In-Chief
This past weekend, almost 40 Assumption seniors attended the annual Senior Retreat, held at the Immaculate Conception retreat center in Putnam, Connecticut. The Senior Retreat is held every February and is open to all members of the senior class. The most unique part of the Senior Retreat is that it is not only designed for seniors to go on, but it is also led by seniors. This year, Adam Duval and Abby Metcalf were the rectors, or the primarily leaders, for the retreat. The other members of the retreat team consisted of Tim Cody and Renee Leavitt.
The Senior Retreat is very similar to the START Retreat. Both are opportunities to escape campus for 24 hours and reflect on faith related topics relevant to college students. The Senior Retreat is more specifically designed to give students a chance to reflect on their time at Assumption and also to prepare for the future. Through quiet reflection time, inspirational talks and bonding experiences, students can remember the good times they had in undergrad and how to carry the community formed here into their careers and adult lives.
Another unique part of the Senior Retreat is that, like all retreats at Assumption, most of the activities taking place are a secret. This allows the retreat to be full of surprises and emotions, even for those who are involved in planning it. However, like most retreats, one of the essential parts of Senior Retreat is the talks that are given and the time allotted to reflect on them. These talks were given by members of the retreat team, and some special guests, and focused on topics like entering the real world, utilizing your passions, building community, and making the most of the rest of your time at Assumption.
After each talk was time for reflection, where retreatants were given reflection questions and invited to journal about their reactions to the talk. Following this brief reflection time, retreatants met in small groups with a few members of the retreat team to discuss both the talk
and their answers to the journal questions. While the retreat consists of much more than the few talks given over the course of the 24 hours, most of that information cannot be shared in order to keep the element of surprise alive in the retreat.
One aspect of Senior Retreat that is particularly enjoyable for the students who attend is the opportunity to get to know new classmates. While Assumption may be a small school, it is impossible to know everyone. The retreat offered many chances for retreatants to get to talk to classmates who they may have never met before, or who they just may not know well. Similarly, the START Retreat allows for this kind of bonding with classmates. Both retreats are amazing opportunities to build community, even in such a short period of time.
Lily Raso, a marketing major, was on the retreat this weekend after recently leading the Horizon Retreat last fall. Lily has been on both the START and Horizon Retreats, and has served on the team for both of these as well: "After being on team for START and Horizon, it was nice to be a retreatant again. I think our whole group really took the time to reflect on our years here and what will come in our future. The biggest thing that I got out of this weekend was that we will be ok once we're finished here. Our paths are not one straight line, and I am excited to follow the winding road ahead."
Rachel Berthiaume, a marketing major, had never been on an Assumption retreat before going this weekend: "The senior retreat was my first retreat I've done at Assumption and it made me wish I did prior retreats during my time here. This retreat allowed me to take a step back and reflect on my growth over the past four years and recognize my personal strengths and passions. Overall, it was an experience that eased my mind about the future and helped me to bond more with my classmates. I'm so glad I took this opportunity as it motivates me to slow down and
enjoy every moment of senior year and continue to build relationships with my classmates before graduation!"
This retreat, with all of the hard work that the rectors and the team put into planning it, was very successful, and very beneficial for the seniors who attended. Senior Retreat is a unique experience, and one that will remain in the hearts of the students who attended it for years to come. For non-seniors who are interested in attending a retreat, registration for the START Retreat is now open, and the retreat will be held March 27-28.
13 comments